The new HHCU service center is located at 317 Ridge Avenue in Greendale.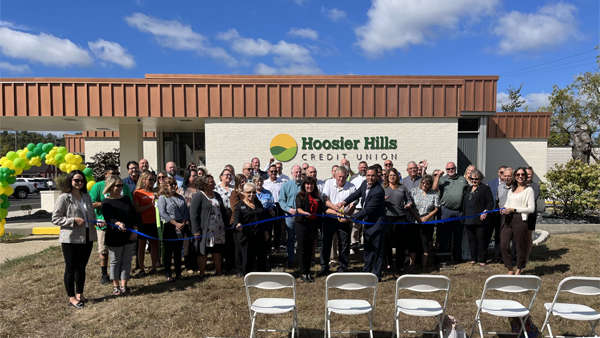 Photo by Casey Gilmour, Eagle Country 99.3.
(Greendale, Ind.) – Hoosier Hill Credit Union has a new service center in southeastern Indiana.
Local leaders gathered at the new facility at 317 Ridge Avenue in Greendale on Monday morning for the Grand Opening.
In addition to the Hoosier Hills Service Center located in the St. Elizabeth Dearborn hospital at 600 Wilson Creek Road, the newly renovated Greendale facility will serve communities in Dearborn, Switzerland, Ohio, and surrounding counties.
The Greendale facility marks the 10th service center in central and southern Indiana for Bedford-based Hoosier Hills Credit Union.
"We are extremely proud to be here and proud to be a part of this community. We had lots of places that we looked at to establish another facility and this one felt right. It felt right for a lot of different reasons, but it really gave us an opportunity to think about where we wanted to be and how we can continue our mission of improving the lives of our members in the communities in which we serve, and this was the right fit for us," said Travis Markley, President and CEO of Hoosier Hills Credit Union.
The Hoosier Hills Credit Union Greendale Service Center will increase and diversify financial offerings for area residents with free interest-bearing checking and savings accounts, a comprehensive suite of mortgage products and services 24/7 online and mobile banking, mobile check deposit, financial budgeting/planning tools and fraud protection. Highly competitive rates on certificates of deposit, money market accounts, IRAs, health savings accounts and credit cards make HHCU a smart choice for those interested in earning the most from their money.
HHCU also prides themselves on community. Since their humble beginnings in a breakroom of a GM transmission plant in Bedford nearly 53 years ago, HHCU has grown to hold more than $800 million in assets with over 33,000 members in Indiana and Kentucky.
To give back, HHCU became the first credit union to join the Pledge 1% Program in a philanthropic effort to inspire members to support nonprofit organizations in the community.
Last year, HHCU directed over $110,000 to causes, nonprofit organizations or local scholars and athletic programs across central and southern Indiana.
They continued with their charitable giving on Monday by donating $5,000 to the Friends of Lauren Hill Memorial Park and $5,000 to Greendale Main Street.
To learn more about Hoosier Hills Credit Union, visit https://hoosierhills.com/.
RELATED STORIES
Dearborn County Federal Credit Union to Merge with Hoosier Hills Credit Union