Wilma Baird can tell you about the importance of detecting lung cancer early.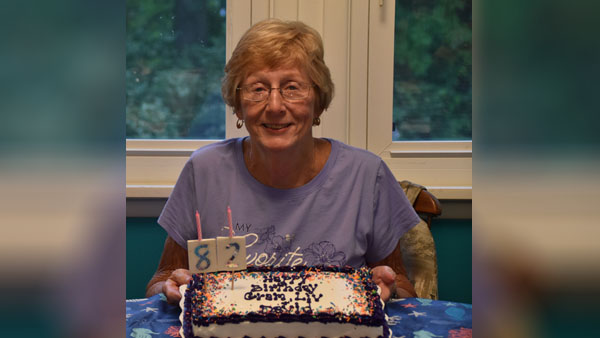 A lung cancer survivor for almost 20 years now, Wilma Baird recently celebrated her 82nd birthday. In 1999, Mrs. Baird's lung cancer was detected early thanks to a CT lung cancer screening at the hospital. Photo provided.
(Lawrenceburg, Ind.) - Lung cancer is a deadly disease with the five-year survival rate for those diagnosed much lower than many other forms of cancer, including breast, colon and prostate.
One of the primary reasons for the low survival rate stems from the lack of early detection. Because many individuals do not develop noticeable symptoms until the disease has progressed, most lung cancers are not detected until they have reached stage III, when the disease has already spread beyond the region of the lungs, or stage IV, when the disease has spread to distant organs.
The good news is that lung cancer can be treated and is survivable if it is detected early. Lung cancer in stages 0, I and II are the most treatable. To aid in early detection, Highpoint Health offers a painless, non-invasive screening for lung cancer which can detect abnormalities even before they are visible on a chest X-ray. Taking approximately 20 seconds of imaging time, the screening utilizes low-dose computed tomography (CT) to identify possible cancerous lesions.
Highpoint Health has long been a leader in offering low-dose CT lung cancer screenings to the region, having first initiated the program approximately 20 years ago.
"I owe my life to Highpoint Health, formerly Dearborn County Hospital, and their CT lung cancer screening program," explained Wilma Baird, an almost 20-year lung cancer survivor from Alexandria, Kentucky. "In the summer of 1999, I saw a story on the evening news about the screening program at the hospital. Even though I had quit smoking 13 years previously, felt fine and had not even the slightest of symptoms, I thought it was worth driving to Lawrenceburg, just to be safe. My expectations were to receive peace of mind and a clean bill of health, not a lung cancer diagnosis. As terrible as receiving that fateful news was, it ultimately helped save my life.
"The screening detected a small lesion in the upper lobe of my left lung," she continued. "Through the use of further diagnostics, the lesion was determined to be cancerous. Surgery was then performed, removing the lesion. Because the cancer was detected early, before it could spread, no further treatment, such as chemotherapy or radiation, was needed.
"Now, almost 20 years have passed since I made one of the most important decisions of my life: to have the lung cancer screening. There have been so many momentous occasions that I may have missed if it were not for that initial screening…being there for my children, grandchildren and great-grandchildren, traveling and spending the winters with friends in Florida and most importantly, celebrating my 50th wedding anniversary with my now late husband and being there to comfort my oldest daughter as she passed from breast cancer.
"We all have something to live for and people who love and care about us," concluded Mrs. Baird. "That's why I encourage everyone who meets the requirements, to talk to their physician, as soon as possible, about having a lung cancer screening. I will always be eternally grateful that I made the right decision so many years ago."
CT lung cancer screenings are available at Highpoint Health by appointment. A physician's order is required for the procedure and screening participants must meet the following requirements:
be symptom free,
be a current smoker or have quit smoking within the last 15 years,
have a 30-pack year smoking history (one pack per day for 30 years/two packs per day for 15 years/three packs per day for 10 years, etc.),
have not had a CT thorax scan within the last 12 months, and
are 55 through 77 years of age.
The screening is covered by Medicare, Medicaid and most private insurance plans if you meet all the above requirements. Some health plans may require a co-pay if out of network. Highpoint Health offers the screening at a reduced rate of $150 for those not covered by insurance.
For more information, please consult your primary care physician or call the Highpoint Health Imaging Department at 812/537-8105 or 800/676-5572, ext. 8105.
Highpoint Health is designated by the American College of Radiology as a top quality provider of safe, effective diagnostic imaging for individuals at high risk for lung cancer.