Voters in Eagle Country have a lot to decide Tuesday.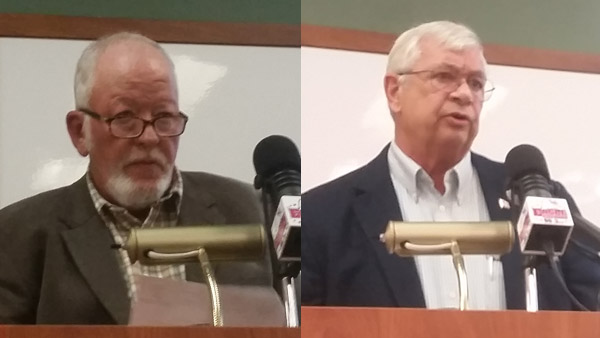 Independent Glenn Wright and Republican Rick Probst are Dearborn County voters' choice for District 3 County Commissioner on Election Day, November 6. Photos by Mike Perleberg, Eagle Country 99.3.
(Lawrenceburg, Ind.) – Though midterm election turnout is usually not good, early voting numbers have shown that turnout in this 2018 general election could be record-breaking.
Voters of all stripes believe there is at least one must-vote race or issue to be decided. But the biggest draw may be the desire to maintain or tilt the balance of power in Washington.
After millions have been spent on campaign ads, Indiana voters will finally settle the U.S. Senate race between Democratic incumbent Joe Donnelly and Republican Mike Braun. The race is widely considered a toss-up.
Donnelly had a late campaign assist from former President Barack Obama at a rally in Gary, Indiana on Sunday. Could a last-minute rally with President Trump in Fort Wayne on Monday evening be enough to push Braun across the finish line.
"You will be a great new senator to work along with (Senator) Todd (Young)," said Trump. "A vote for Mike Braun is a vote to keep your jobs going, to keep your wages going up."
Trump also used the occasion to slam Donnelly, who voted against the confirmation of U.S. Supreme Court Justice Brett Kavanaugh.
"We'll have the election tomorrow and on Wednesday he'll be totally against us. He'll never vote for us. He will never, ever vote for us," Trump told the crowd.
Libertarian Lucy Brenton could prove to be a wild card in that Indiana Senate election.
Another statewide decision in Indiana is Question 1 – which will appear at the top of all ballots in the state. It is a proposed amendment to the Indiana constitution requiring lawmakers to pass a balanced budget every two years. The requirement could be overridden with a two-thirds vote in the House and Senate.
Dearborn County voters must decide on a new county commissioner and members of county council. Former county clerk Rick Probst is running as a Republican for District 3 County Commissioner against county recorder and independent Glenn Wright. Local Republican party advertisements have dubbed Wright "Easy Money Glenn" and served as retorts to Wright criticisms of county government.
In his own ads, Wright says that many county officials are using the county's offices as "musical chairs." In meetings and campaigning, he has also accused county council of misspending millions in riverboat gaming revenue.
The District 3 seat on the Board of Commissioners is being vacated at the end of this year by Shane McHenry. Even before a vote is counted on Tuesday, McHenry is essentially the Dearborn County Sheriff-elect because he is uncontested in the general election after surviving a primary race against deputy Brad Schwing.
For Dearborn County Council, Republican Liz Morris, who is the current council president, and Democrat Shelly Snyder are opponents in District 1. The District 3 council race puts Dillsboro Republican Kevin Turner against Aurora Democrat Mel Kremer.
Another driver of voter turnout in Dearborn County are contested, non-partisan school board races in the South Dearborn and Sunman-Dearborn school districts. Four candidates are going for South Dearborn's at-large board seat: incumbent Bill Lane Jr., Brent Casebolt, Denise Rollins, and Suzanna Thies. Jeff Cotton, who helped lead an effort to stop a tax increase for improvements at South Dearborn High School in 2016 and 2017, is challenging incumbent Jeff Lane in South Dearborn District 1.
Sunman-Dearborn Community Schools' only contested race is that for District 6. Incumbent board member Dawn Disbro Burke is facing Michael Griffin.
Dearborn County voters may also be keeping a closer eye on how the county's ballot scanning machines work Tuesday. In the May 2018 primary election, many of the machines failed due to unexpected dead batteries. County Clerk of Courts Gayle Pennington and leaders of both county political parties agreed all votes were accurately counted.
Ohio County voters have several decisions to make on local leaders. Four county council seats are up for grabs Tuesday. Incumbent Republican county sheriff Glenn Potts is seeking another four years against Democrat Doug Taylor, a former Lawrenceburg Police officer.
Greg Pence, brother of Vice President Mike Pence, is on the ballot as the Republican candidate to take his younger sibling's former 6th Congressional District seat. In the Republican-leaning district, he is opposed by Muncie Democrat Jeannine Lee Lake and Libertarian Tom Ferkinhoff, a former Batesville resident.
Indiana Statehouse races are also on Tuesday's ballot for all Hoosiers. Locally, House District 67 State Rep. Randy Frye hopes to remain part of the GOP supermajority in the Indiana House of Representatives if he can overcome a challenge from military veteran and Democrat Cordelle Fueston.
House District 68's race has Randy Lyness, of West Harrison, running for re-election against Hidden Valley Democrat Matt Gaustad.
Batesville's Cindy Ziemke, a Republican, is challenged by Democrat Corinne Westerfield in her bid to remain the representative for House District 55.
In the state Senate, Centerville's Jeff Raatz is the Republican seeking re-election against Democratic candidate Jake Hoog, of Sunman.
OHIO
Ohioans also have to vote "yes" or "no" on the controversial State Issue 1. The proposed constitutional amendment would reduce penalties for some drug crimes in hopes of getting drug users into treatment. It has been opposed by many Ohio prosecutors and local governments including Harrison City Council.
The race for Ohio governor features Republican Attorney General Mike DeWine against Democrat Richard Cordray.
Western Hamilton County voters will decide if they want to keep Republican Congressman Steve Chabot in Washington, or replace him with Democrat Aftab Pureval, the first-term Hamilton County Clerk of Courts.
KENTUCKY
Boone County voters don't have choices in races for judge-executive, county commissioner, county sheriff, or commonwealth's attorney. Republican candidates do not face a challenger in any of those races.
One contested race is for Boone County Clerk. Republican Kenny Brown, the incumbent, is challenged by Democrat Amy Ferguson. The county coroner race is also a choice between Republican Missy Rittinger and Democrat Larry Brinneman.
But Boone County voters will have a fair number of statehouse races to settle. House District 66's race features four candidates: Democrat Robert Henriquez, Republican Ed Massey, independent Stacie Earl, and Libertarian Lex Hannan – not to mention write-in candidate Brett Wesseling.
There are two choices each in House districts 60, 61, 63, and 69.