Sutton earned the award for his work developing a tree inventory for River View Cemetery.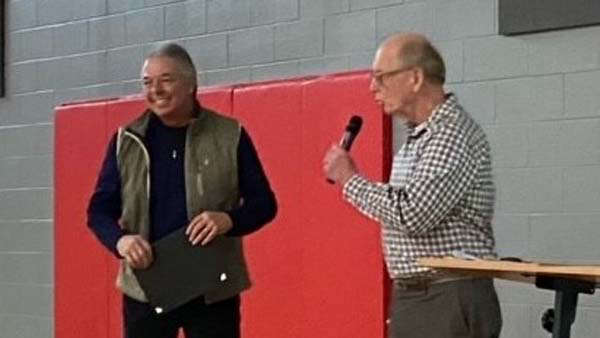 Jack Sutton receives the Peaslee Award. Photo provided.
(Aurora, Ind.) - A recent event in Aurora highlighted the importance of trees.
Taking Root, a Greater Cincinnati reforestation campaign, hosted the 9th annual Great Tree Summit at the Aurora Community Center on February 26.
Jack Sutton was presented with the Peaslee Award, for his work in developing a tree inventory for the historic River View Cemetery.
"Established in 1869, the cemetery is located on a 30-acre plot of land less than ten minutes from downtown Aurora, and it features a number of winding, tree-lined pathways that navigate the more than 13,000 burial arrangements. Jack did the inventory as a volunteer and serves on the Cemetery Board of Managers and Corporators in a voluntary capacity," reads the Peaslee Award certificate.
Sutton also presented the Master Plan for River View Cemetery at the event.
At the conclusion of the event, Sutton, River View Cemetery and the City of Aurora were presented with 'Red Rage' Tupelo trees to commemorate Aurora hosting.
The trees will be planted at River View Cemetery and Aurora City Park.
"The Great Tree Summit is one of our most important events of the year! It is a great way to present our organization to the public and to all friends of trees. We had a great time in Aurora and are so grateful for all of their support", said Patrick Greeson the current President of Taking Root.
Taking Root was formed in 2013 and is a nonprofit organization serving the 9 counties of the Greater Cincinnati area including: Butler, Clermont, Hamilton, and Warren in Ohio; Boone, Campbell, and Kenton in Kentucky; and Dearborn in Indiana. Its mission is to plant two million trees in the Greater Cincinnati area (one for every person living in the region) to help combat the effects and threats of deforestation.
Taking Root provides educational resources to homeowners and schools, as well as project funding such as mini grants to municipalities and communities for tree planting projects throughout Greater Cincinnati. The organization is able to provide these programs through generous funding from the Duke Energy Foundation, the National Arbor Day Foundation, the Otto M Budig Foundation, just to name a few, and from the very generous support of partner businesses and private individuals and groups.
For information, visit www.takingroot.info.