Unemployment, roads, teacher pay and hands free driving were among the topics touched on Tuesday night.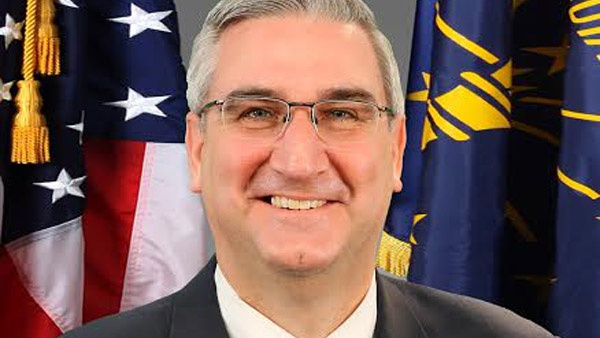 (Indianapolis, Ind.) - Indiana Governor Eric Holcomb gave his State of the State Address on Tuesday night.
He started off his address by extending thanks to the energy, ingenuity and hard work of Hoosiers across the state.
Holcomb then turned his attention to the state unemployment rate. Since he took office in 2017, Indiana's jobless rate has dropped to 3.2 percent, which remains below the national average.
"We've set all-time records in jobs commitments and capital investment. In fact, there are an additional 88,000 jobs in the IEDC's pipeline because of the work that's been done in the past three years," Holcomb said.
Holcomb also touted the state for having an honestly balanced budget and a Triple-A credit rating.
"We set aside $2.3 billion in our state's saving account, which is a stark contrast to some of our neighbors," Holcomb stated.
The Chicago Tribune recently released an editorial that mentioned Indiana's balanced state budget as one of several reasons that people are moving to the Hoosier state. Last year, approximately 36,000 people moved to Indiana.
Some of the other things that are potentially drawing folks to Indiana are lower taxes, more stable home values and funded pension systems.
To get around in Indiana, you need good roads and that has been a top priority for Governor Holcomb with his Next Level Roads initiative that will invest $30 billion over the next 20 years to improve existing roads and bridges.
New roads are also being completed. The governor says Interstate 69 between Evansville and Indianapolis is three years ahead of schedule and a stoplight-free U.S. 31 is in the works to South Bend.
The state has also taken steps to make roads safer by passing a "hands-free device driving law."
Eventually, the governor got to the hot topic of teacher pay.
"I know a little about this," Holcomb said. "My mother was a teacher and I saw how hard she worked. That's why I created the Teacher Compensation Commission and asked them to come up with a sustainable plan to make our teacher salaries with other Midwestern states."
Last year, the state devoted an increase of $763 million new dollars in K-12 education, including paying down $150 million in the Teacher Retirement Fund, which freed up $65 million more a year for teacher pay increases.
On Tuesday, Holcomb recommended that the General Assembly use an additional $250 million from the state's surplus and put it towards teacher retirement funds when the next two-year budget is written in 2021.
No mention was made about increasing teacher pay in 2020.
Other top priorities from the State of the State include, raising the smoking age to 21, helping DCS get more children adopted, and lowering infant mortality rates.
The full State of the State Address can be found at www.in.gov.
House Speaker Brian Bosma and House Speaker-elect Todd Huston issued the following statements regarding Holcomb's State of the State Address:
"Governor Holcomb continues to provide strong leadership and vision for our state, and we look forward to working closely with him this session as we complete the people's work on time and under budget. He is a tremendous ambassador of Indiana's success story, and finds ways to get big wins for Hoosiers. We are excited about the record-setting pace of our economic development efforts, and we look forward to seeing the results play out in communities across our state," said House Speaker Brian C. Bosma (R-Indianapolis).

"Our state continues to earn the spotlight with our fiscal stability and top-ranked economic environment, which attracts businesses large and small that support families across our state. With a structurally balanced budget and healthy reserves, we are on the right track to continue funding our state's priorities and building on our momentum. Governor Holcomb has shown great leadership, and we will continue working together to support all Hoosiers," said House Speaker-elect Todd Huston (R-Fishers).