Have you heard of 'Rock on Rising Sun'?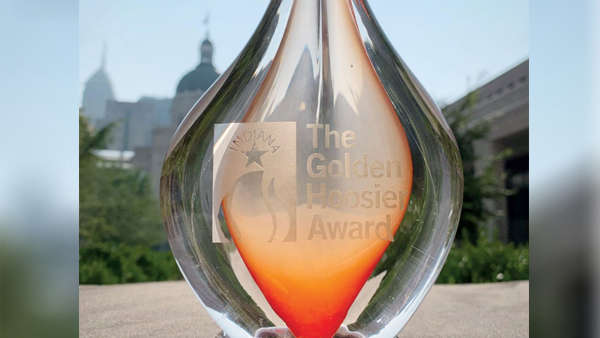 INDIANAPOLIS - Bonnie Carrigan rocks.
On Tuesday at the Indiana Statehouse, Carrigan was one of 10 recipients of the 2023 Golden Hoosier Award.
The awards were presented by Lt. Governor Suzanne Crouch, in collaboration with the Indiana Family and Social Services Administration's Division of Aging.
"It is my pleasure to honor our recipients of the 2023 Golden Hoosier Award, the highest honor I can bestow upon an older Hoosier on behalf of the state of Indiana," said Lt. Governor Crouch.
The awards are given out annually to senior Hoosiers for their lifetime of service and commitment to their communities.
For Carrigan, she has dedicated her time to bring attention to Rising Sun while promoting community spirit. She was nominated for the award by Jane Litton.
Read Carrigan's Golden Hoosier Award bio below:
Rising Sun's own "rock star" Bonnie Carrigan has found a rock-solid way to bring attention to her Ohio County town and promote community spirit. Bonnie began the "Rock on Rising Sun" organization seven years ago and has tirelessly led it ever since. Using the Rising Sun Hoosier Boy Senior Housing activities room, Bonnie and her team of "Rolling Stones" paint rocks with whimsical images, which are then hidden within the city limits for others to find and re-hide (or replace with their own creation). Photos of the discovery and its finder can be posted on the Rock on Rising Sun Facebook page. The rock search is open to all, whether a city resident or not. Through the years, these miniature masterpieces have been relocated in other states and countries. If the thrill of the search isn't enough, the fact that rock hunts often come with prizes and help worthy causes makes them even more special. Bonnie seeks out local sponsors to provide supplies for her painters and fun prizes for the finders. Recently, winning rocks sponsored by area businesses yielded their finders $5 by returning the rock to its supporter. Once returned, the company pledged to make a donation to the Bulletproof Classroom Door Project for Rising Sun-Ohio County Community Schools, a cause that Bonnie is passionate about. Bonnie and her Rolling Stones are always on hand at local festivals with their painted rock projects. Their latest venture is Shiner, the rock snake, that grows longer by the day in downtown Rising Sun. The public is invited to paint a section of Shiner's body and see how long they can make him. Bonnie is the go-to person for all the residents in her senior building and is always eager to assist others in any capacity. Her contributions are never taken for granite.
Since the Golden Hoosier Award began in 2008, more than 200 Hoosiers have been honored.
To be eligible, awardees must currently be an Indiana resident, age 65 or older and have been a volunteer in the community for the past three years.
Learn more at https://www.in.gov/lg/lt-governor-initiatives/golden-hoosier-award/