A teen suffered a serious head injury when she fell from the golf cart on a city street.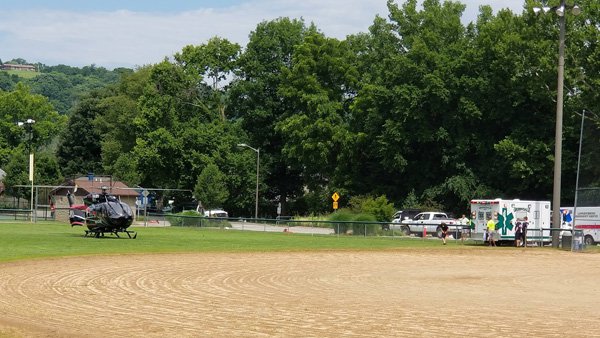 Photo by Greendale Fire Department
(Greendale, Ind.) - A teenage girl is recovering in the hospital following a 4th of July golf cart accident in Greendale.
It was just before 11:00 a.m. Wednesday when the accident happened near the intersection of Nowlin and Oakey avenues. Greendale Police say a 16-year-old girl was driving the golf cart and making a turn when a 15-year-old girl passenger fell off the golf cart.
The teen, who was unrestrained and positioned in a third-row seat, suffered a head injury in the fall. She was taken by Air Care, which landed in the baseball field at nearby Greendale Park, to UC Medical Center.
The girl's family told police she is in stable condition at the hospital, alert and responding.
Police say the owner of the golf cart had valid insurance, but was cited for not having the vehicle properly registered with the city as required by ordinance.
Greendale Fire Department, Greendale Life Squad, and Lawrenceburg Emergency Rescue assisted at the scene.