Seventeen local students were awarded.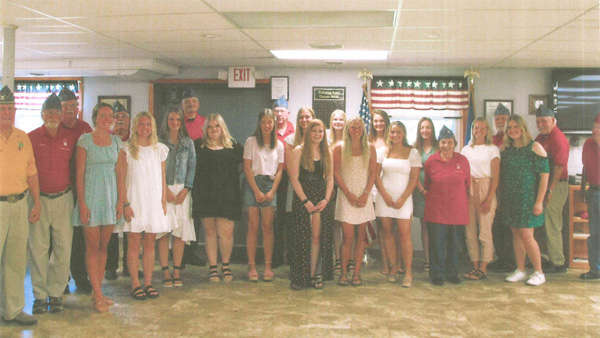 40&8 Scholarship Recipients with Voyageur Militars Bill Hoffman, Spehn Rater, W.D. Hansel, Larry Judd, Lonny D. Barnett, Bill Scharold, KC Snyder, Ken Hylton, Jerry Maune, and Hank Schmeltzer. Photo provided.
(Sunman, Ind.) - The Society of Forty Men and Eight Horses, more commonly known as the Forty and Eight, recently announced their 2021 40et8 Nursing Scholarship winners.
Seventeen high school graduates from several area schools were among the scholarship recipients.
JoAnn Niemeyer Award ($2,500 award)
Ernie & Vera Glaub Award ($2,500 award)
40et8 V-612 Award ($2,000)
Riley Bamberger
Olivia Bosch
Ashley Bowne
Mackenzie Brashear
Brooke Clark
Tyler Dickerson
Maggie Hoog
Hailie Jump
Sam Kirchgassner
Kyla Maxwell
Keirstan Oeffinger
Jessica Rees
Julie Sandlin
Brooke Stonefield
Taylor Whitehead
The Forty and Eight began issuing Nursing Scholarships in 1941. Scholarships help many nursing students that are juggling family, child care, work school, and/or studying.
For more information about the Forty and Eight, visit www.fortyandeight.org.