Torrential downpours are causing issues for Eagle Country.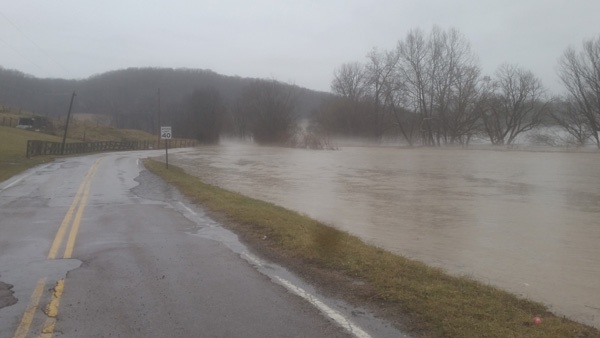 Flooding from Tanners Creek has closed Kaiser Drive in Dearborn County on Wednesday, February 6, 2019. Photo by Mike Perleberg, Eagle Country 99.3.
Update published at 3:09 p.m.:
U.S. 50 has fully reopened at Oberting Road in Greendale.
Original story published at 12:05 p.m.:
(Dearborn County, Ind.) - Downpours which began Wednesday and continuing through Thursday are causing problems in the tri-state.
Dearborn County Emergency Management Director Jason Sullivan is reminding motorists to never drive into flooded roadways.
"We are currently experiencing several areas in Dearborn County with roadways that are covering up with water," said Sullivan.
High water has closed U.S. 50 Eastbound at Oberting Road in Greendale, where a vehicle crash also occurred Wednesday morning. U.S. 50 is also experiencing high water at Sunnyside Avenue in Aurora.
Kaiser Drive near Pribble Road in Dearborn County is closed due to the flooding of Tanners Creek.
In Franklin County, Bullfork Road at the slab bridge is closed until further notice.
The National Weather Service has the tri-state under a Flood Watch now through Friday morning as up to three inches of rain could fall by Thursday evening.
The Great Miami River at Miamitown is expected to reach flood stage Thursday. The Ohio River at Cincinnati is currently expected to crest just below flood stage.
In light of the rain and warm weather, Perfect North Slopes has suspended operations until Friday.
***UPDATE*** The eastbound lanes of US 50 are open. Westbound lanes are still closed. INDOT working to clear the drains to help the waters recede. PLEASE DO NOT DRIVE THROUGH FLOOD WATERS! TURN AROUND! DON'T DROWN! @wcpo @wlwt @fox19 @local12 @eagle993 @ISPVersailles

— Greendale Police (@GreendalePolice) February 6, 2019