Margie Thompson is pleading guilty to two counts of murder and has agreed to what amounts to a life sentence.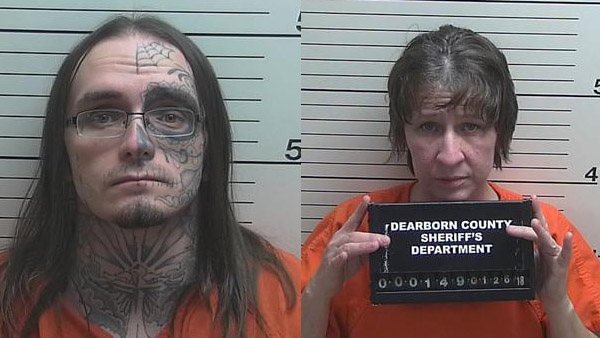 Cody W. Booth and Margie Thompson. Photo by Dearborn County Sheriff's Department.
(Aurora, Ind.) – A woman who helped murder a Vietnam War veteran and his daughter in Aurora has pleaded guilty to two counts of murder.
Margie Thompson and Cody Booth are accused in the January 17, 2018 murders of Booth's mother and grandfather, Faith Craig and Walter Bryant, Jr., in the home they shared on Douglas Drive. Upon their arrests, the two allegedly told investigators they woke up "dope sick" and killed Craig and Bryant before taking cash and items to pawn for drug money.
Dearborn-Ohio County Prosecutor Lynn Deddens announced Monday that Margie Thompson pleaded guilty on Friday to two counts of Murder. She has accepted a plea agreement of 95 years in prison.
"It is all about seeking justice for the families of Walter and Faith," said Deddens. "Ms. Thompson is 48-years-old and accepted a plea agreement of 95 years in prison. In the State of Indiana, inmates are required to serve 75 percent of their sentence. With Ms. Thompson, the 95 years set forth in the plea agreement is equivalent to 71 actual years in jail. Ms. Thompson will be 119-years-old when she will be released from jail. She, in essence, accepted a life sentence," explained Deddens.
Formal sentencing for Thompson will be announced by Dearborn Circuit Court Judge James D. Humphrey on March 26 at 8:30 a.m.
Meanwhile, two murder charges are still pending against Cody Booth. He faces several other charges, including Robbery Resulting in Serious Bodily Injury, Conspiracy to Commit Robbery, Criminal Confinement, Conspiracy to Commit Criminal Confinement, and Conspiracy to Commit Murder.
Booth's trial is currently slated to begin on March 4.
Last month, prosecutors filed a notice that they would forgo pursuit of the death penalty against Booth and Thompson and instead seek sentences of life without parole. Deddens said the decision was made after speaking with the families of Craig and Bryant.
RELATED STORIES:
Prosecutor Will Seek Life Without Parole For Suspects In Aurora Double Murder
Judge: Double Murder Suspect Will Stand Trial
Bond Denied For Man Accused Of Murdering Mother, Grandfather
First Court Appearance Tuesday For Man Accused Of Murdering Mother, Grandfather
Son/Grandson, Girlfriend Charged With Aurora Double Murder
Family Issues Statement On Faith Craig And Walter Bryant Jr. Murders
Court Docs Detail Mother, Grandfather Murders
Family: Murder Victim Faith Craig "Gave Everything She Had To Help Him"
Purple Heart Veteran, Daughter Identified As Double Murder Victims