The teams competed at regional qualifiers on April 10.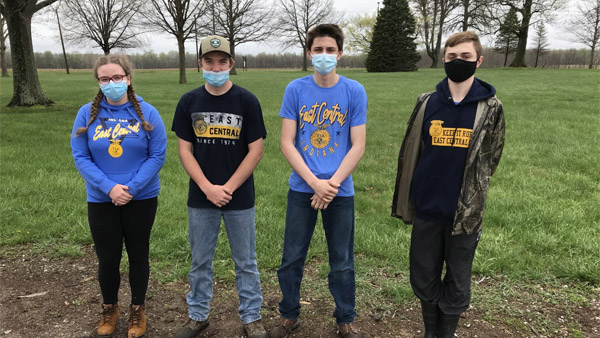 (Left to right): Elizabeth Stout, Heath Doll, Bradley Kolb and James Bulach. Photo provided.
(St. Leon, Ind.) – East Central FFA members showed out at two recent competitions.
Eleven members competed at the Wildlife Habitat CDE Regional Qualifier at the Southeastern Purdue Agricultural Center in Butlerville.
The team of Adrien King, Braden McDaniel, Evan Kuhn, and Brady Hornberger came in second place, while the team of James Bulach, Health Doll, Bradley Kolb, and Elizabeth Stout placed third. Both teams will compete at the state contest on May 8.
The team of Nash Isbell, Justin Harper, and Adam Miller finished fifth.
Each team identified preserved animals, took a written exam, and evaluated wildlife habitats.
At the Area 1 Dairy Cattle Judging and Livestock Judging CDE in Decatur County, East Central's FFA Chapter sent three teams to compete.
In dairy cattle judging, the teams of Jacob Miller, John Kathman, and Caleb Harper, along with Isaac Hartman, Lloyd Darringer, and Daniel Callahan earned a trip to the state contest in May.
East Central's livestock judging team of Maddie Dawson, Jacob Kuhn, and Lewis Darringer placed seventh.