The Lawrenceburg native was honored at GABP on Sunday afternoon.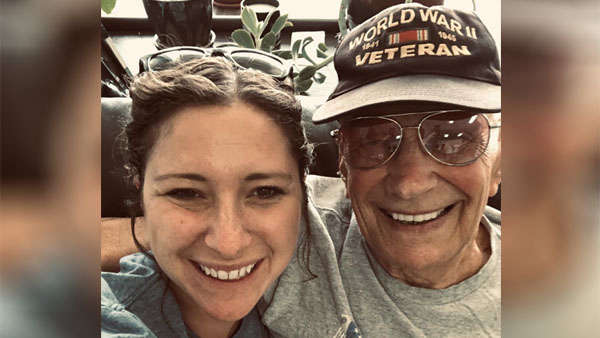 Eagle Country 99.3's Miranda Boyles with George Klopp Sr.
(Lawrenceburg, Ind.) - George E. Klopp Sr. was honored alongside his close family, friends, and PG Gentrup, as the "Hometown Hero" at the Cincinnati Reds game yesterday, Sunday, July 18th. The crowd went crazy when this World War II Veteran of the United States Navy, EM 3rd Class was brought up on the big screen for applause and recognition. Experiencing this patriotism during America's pastime made for a very memorable day. Plus, I was honored to get a hug from this Local Hometown Hero at the game.
I also had the pleasure to sit down with George for a one-on-one afternoon chat prior to the game. I have known George Sr. for 18 years now from being good friends with his grandson, Derek, and frequenting his son "Georgie's" household. When I asked George where he was born, he said "I'm an old Lawrenceburger." George E. Klopp Sr. was born on April 13th, 1926, in Lawrenceburg, IN. He is 95 years old.
George joined the U.S. Navy in June of 1944 during WWII. He is now considered one of our very own local heroes. When George was just 18, he was shipped overseas (destination unknown at that time) for a total of 22 months. He sailed on an old British Cargo Ship converted to a Troop Ship. They sailed south through the Panama Canal and zig zagged through the Pacific meeting rough waters and storms as their ship dipped high and low and side to side. I told George that sounded scary, he said "yeah now looking back." They spent 6 weeks in the Pacific, a portion of that time they were anchored out. He said one afternoon the PA announced, "Men to Bathe" and George jumped in the Pacific waters without a second thought. He loved the water and that's why he decided to join the Navy. They finally docked and was assigned to a Navy Base Hospital in Espiritu Santo, New Hebrides, providing perimeter security. George himself had to turn himself into the hospital at one point when his arm unexpectedly swelled up. He said it was so painful to the touch that he almost passed out from the pain. They released the fluid with a tube, and he eventually healed. He showed me the scar he still has today. I asked George what caused it, he said they called it "Jungle Rot."
After serving at the Base Hospital, he was transferred to a Naval Station in Tutuila, Samoa for 7-9 months where he was an Electrician Mate hooking up ship wires.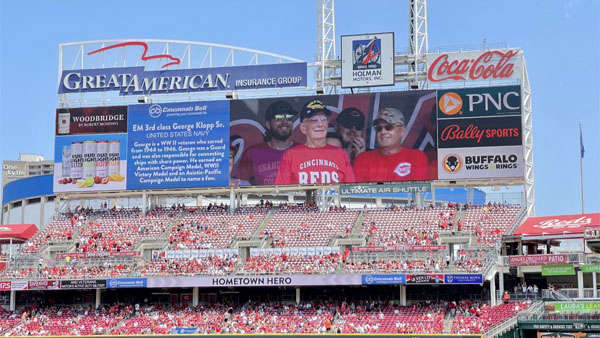 George Klopp Sr. honored as the Reds Hometown Hero. Eagle Country 99.3 photo.
He then got the orders to return home. He was put on an LST with 2-3 other soldiers. He said they joked that LST stood for "Long Slow Target." He said it was a very long slow ride back to Pearl Harbor. He then boarded another big, nice ship back to San Francisco. He said once they sailed under the Golden Gate Bridge, he knew he was back home. He was then placed on a slow-moving Troop Train back to Chicago.
Once he got back to town he was in the "Twenty Club," where the government paid him $20 a week after returning from duty. He said a beer only cost $.15 cents so $20 went a long way. He said earning $20 a week was a lot back then. Over the years, he worked at a Steel Mill in Gary, IN with his brother, who had previously served in the U.S. Marine Corp. George Sr. also worked as a Mold Maker for the Anchor Glass Company in Greendale, IN and retired after 30 years of service.
You will often see George Sr. with his son, George Klopp Jr. "Georgie" alongside him. They have golfed a total of 4 times this year so far and they have season tickets to the Cincinnati Bengals for this upcoming season (still good from last year and paid for). George Sr. has been a season ticket holder for the past 50-60 years. George Sr. resides in Greendale with his new rescue puppy Bella. He said she is a little wild but she's calming down a bit. He still tends his annual garden with tomatoes, pepper plants, and cucumbers. He said, "Derek has to have his pepper plants." George Derek Klopp III is George Sr.'s grandson and third generation of the George Klopp family.
George Sr. has been awarded The World War II Victory Medal, The Asiatic Pacific Campaign Medal, and The American Area Campaign Medal. He is a life member of the American Legion and the 40 & 8. He was also a member of the American Legion Color Guard for over 50 years.
On behalf of Eagle Country, thank you, George E. Klopp Sr., for your service!