Three people were injured in the accident Saturday morning.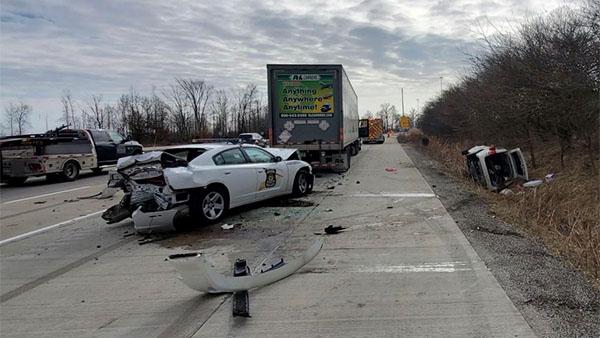 Photo by Indiana State Police.
(Batesville, Ind.) - More than one person was injured after crashing into an Indiana State Police trooper's vehicle.
Trooper Dan Elmore was conducting a traffic stop on a Peterbilt truck pulling a trailer near the 152 mile marker on Interstate 74 eastbound on Saturday around 10:45 a.m.
The trooper's vehicle was parked behind the trailer with emergency lights activated. Elmore was outside the cruiser when a vehicle driven by Juan Martinez, 44, of Chicago, left the eastbound lane and struck the rear of Elmore's vehicle.
The collision forced Elmore's vehicle into the back of the trailer.
Trooper Elmore was not injured. However, three people in Martinez's vehicle were transported to Margaret Mary Health with minor injuries. A six-year-old child was transported to Cincinnati Children's Hospital with serious but non-life-threatening injuries.
Alcohol and drugs are not suspected to be factors in the crash.
The investigation is ongoing.
Yet another reminder...

When an emergency vehicle is on the shoulder with emergency lights flashing, #MoveOver #SlowDown

Luckily, Trp. Dan Elmore was uninjured when his vehicle was struck earlier today.

Passengers in other vehicle sustained injuries but expected to recover. pic.twitter.com/p8cN1RS7FI

— Sgt. Stephen Wheeles (@ISPVersailles) February 16, 2020