The event will feature Mandy Gaines and the Cincinnati Contemporary Jazz Orchestra.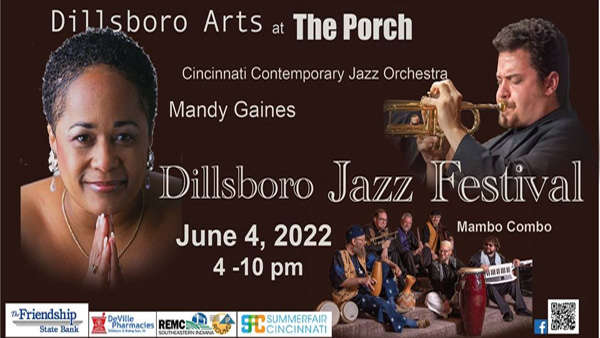 Photo provided.
(Dillsboro, Ind.) - Dillsboro Arts is proud to present the Dillsboro Jazz Festival 2022, featuring internationally known Jazz vocalist Mandy Gaines with the Cincinnati Contemporary Jazz Orchestra on June 4, 2022, from 4:00 to 10:00 pm, at The Porch outdoor music venue.
The 17-member CCJO ensemble is dedicated to performing, preserving, and teaching Jazz as a living art form. Its members are some of the preeminent Jazz artists and educators in the nation. The ensemble explores the works of contemporary composers as well as those of the masters of the Jazz heritage.
The music will begin at 4:00 as Mandy Gaines will take the stage with guitarist and CCM Professor Brad Myers to relive special moments in Jazz history in a tribute to Rosemary Clooney and Cal Collins. Then Mandy will perform lively Jazz standards in a quartet setting.
Later, Cincinnati favorite Latin Jazz ensemble, Mambo Combo, will celebrate classic mambo, Latin jazz and cha-cha. Mambo Combo is stocked with an all-star cast of Cincinnati-area musicians from the bands Tropicoso, ZUMBA, Mambo Diablo, Salsa Renegades and the Blue Wisp Big Band.
As a finale, Mandy will join the CCJO Big Band performing classic Jazz favorites and contemporary compositions