Dearborn County citizens are being urged to register their information with the county's Smart 911 system.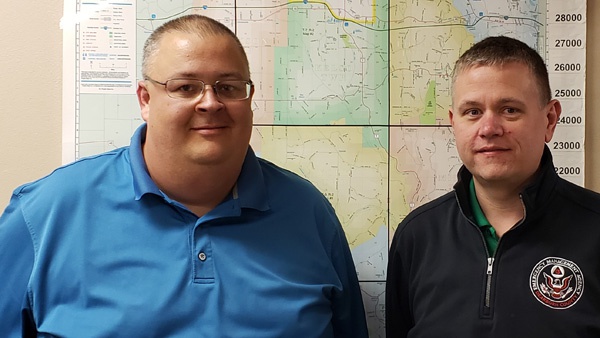 Jared Teaney (left), Dearborn County 911 Director, and Jason Sullivan, Dearborn County Emergency Management Director. Photo provided.
A letter from Jared Teaney, Dearborn County 911 Director, and Jason Sullivan, Dearborn County Emergency Management Director:
When two young children were found wandering in downtown Lawrenceburg on a recent cold winter morning, Dearborn County's Smart911 system was among the many tools used to help law enforcement determine where they came from and contact their family.
When a patient uses a cell phone to call 911 while suffering a heart attack, Smart911 enables dispatchers and first responders to immediately see more precise information about the caller -- even if the person is unable to speak -- saving valuable time. This is particularly important since more than 80 percent of calls made to 911 come from mobile phones.
"These are just a few of the many ways that Smart911 can save lives and assist responders during an emergency," said Jared Teaney, Dearborn County 911 Director. "Smart911 is a national service, meaning your safety profile travels with you and is visible to participating 911 centers nationwide."
HEAR BUBBA BO'S INTERVIEW WITH DEARBORN COUNTY EMERGENCY MANAGEMENT DIRECTOR JASON SULLIVAN AND DEARBORN COUNTY 911 DIRECTOR JARED TEANEY IN THE AUDIO PLAYER BELOW.
Smart911 users create a free safety profile that includes information they want 911 call takers and first responders to know in an emergency. This information -- such as medications, emergency contact information, vehicle information, and other options -- is displayed on the 911 call taker's screen.
It's easy – and free -- to access Smart911 and create a safety profile: Either download the Smart911 App from your smartphone or go to www.smart911.com and follow the instructions.
"It takes only a few moments to be part of Smart 911," Teaney said. "And it is important to emphasize that users determine how much, and what kind of information, is included in their safety profile. They can choose very few or many options, and tailor it to their individual or household needs."
Smart911 also offers a feature called Rave Alert, in which individuals can receive notifications about potentially hazardous situations such as severe weather or evacuations. These notifications can be received as a text message, by email, or through the Smart911 app.
"RaveAlert is an effective way to receive updated information about emergencies and to be prepared," said Jason Sullivan, Dearborn County Emergency Management Director. "Users can choose the notifications they want to receive."
"Dearborn County fully supports this potentially life-saving program," said Jim Thatcher, President of the Dearborn County Board of Commissioners. "We encourage our residents to take a look and sign up for this free service. Help us help you!"
Jared Teaney, ENP
911 Director
Jason Sullivan
EMA DIrector