There is still more fair fun to enjoy Friday and Saturday.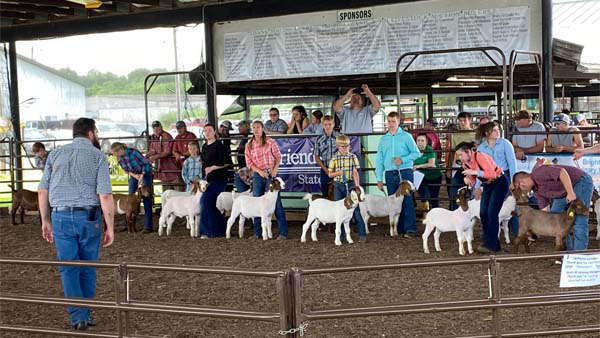 Dearborn County 4-H (1) Facebook.
(Lawrenceburg, Ind.) - It has been an eventful week at the Dearborn County 4-H and Community Fair.
So far, champions and top performers have been announced in the following contests: 4-H Royalty, Alpaca, Cats and Pocket Pets, Dog, Goat, Horse and Pony, Poultry, and Swine.
A full list of winners can be viewed below.
More fair fun will take place on Friday and Saturday.
Friday's festivities include the Pork Chop Dinner (3:30-7:00 PM), Royal Bengal Tigers Show, Woodworking Demonstration, and Kiwanis 4-H Livestock Sale.
Events for Saturday include the return of the Royal Bengal Tigers Show, McKay Family Farm Exotic Animal Show, "Let's Make a Deal" game show and more.
For more information, visit Schedule (dearborncountyfair.com).
2022 4-H ROYALTY
Prince—Tyler Stenger
Princess—Caylee Minges
King—Aaron Jarvis
Queen-Riley Shumate
ALPACA
Grand Champion Halter—Alyson Galey
Grand Champion Costume Alpaca—Ashton Galey
Grand Champion Obstacle Course Alpaca—Anna Bergmann
Rookie Alpaca Showman—Nordica Hughes
Intermediate Alpaca Showman—Ashton Galey
Sr. Alpaca Showman—Anna Bergmann
Sr. Reserve Alpaca Showman—Alyson Galey
All 4-H Alpaca Showman—Brie Kirk
All 4-H Reserve Alpaca Showman—Reagan Whitehead
Reserve Grand Champion Costume Alpaca—Alyson Galey
CATS & POCKET PETS
Champion Cat—Maggie Burkhard
Junior Cat Showman—Vaida Cox
Intermediate Cat Showman—Sydney Montgomery
Senior Cat Showman—Alyson Galey
Champion Pocket Pets—Matthew Bruce
DOG
Agility Beginner A—Sydney Montgomery
Agility Beginner B—Chloe Lattire
Agility Intermediate B—Julia Bulach
Obedience Class 1A—Sydney Montgomery
Obedience Class 1B—Chloe Lattire
Obedience Class 2B—Julia Bulach
Junior Showmanship—Sydney Montgomery
Supreme Dog Showman—Chloe Lattire
Senior Dog Showman—Julia Bulach
GOAT
Grand Champion Milking Doe—Preston Gabbard
Reserve Grand Champion Milking Doe—Emily Stenger
Champion Pygmy—Ellie Shuter
Reserve Champion Pygmy—Carissa Shaw
Champion Fainting-Landon Smith
Champion Dry Doe—Emily Stenger
Reserve Champion Dry Doe—Riley Shumate
Champion Get of Sire—Riley Shumate
Champion Produce of Dam—Morgan Lawrence
Champion Mother/Daughter—Emily Stenger
Champion Nigerian Wether—Emily Stenger
Junior Goat Showman—Landon Smith
Junior Goat Reserve Showman—Carissa Shaw
Intermediate Goat Showman—Riley Shumate
Intermediate Goat Reserve Showman—Emily Stenger
Senior Goat Showman—Morgan Lawrence
Senior Goat Reserve Showman—Adam Miller
All 4-H Daily Goat Showman—Jacob Kuhn
All 4-H Reserve Dairy Goat Showman—Rozalee Bear
Rookie Showman—Peyton Zinser
Grand Champion Market Wether—Jacob Miller
Reserve Grand Champion Market Wether—Alyson Galey
Champion Homegrown Market Wether—Andrew Shuter
Champion Rate of Gain Market Wether Winners—Jacob Kuhn, Maegan Galey, Morgan Lawrence,
Jacob Miller, Morgan Lawrence, Cole Minges, Alyson Galey, Cassie Callahan
Grand Champion Boer Doe—Ellie Shuter
Reserve Grand Champion Boer Doe—Alyson Galey
Champion Mother/Daughter—Eli Bruce
Champion Sr. Percentage Boer Doe—Liam Patterson
Reserve Champion Sr. Percentage Boer Doe—Eli Bruce
Champion Jr. Percentage Boer Doe—Ellie Shuter
Reserve Champion Jr. Percentage Boer Doe—Alyson Galey
Jr. Percentage Boer Doe-0-3 Months Class Winner—Eli Bruce
Jr. Percentage Boer Doe-3-6 Months Class Winner—Alyson Galey
Jr. Percentage Boer Doe-6-12 Months Class Winner—Ellie Shuter
Sr. Percentage Boer Doe-36 Months and Up—Liam Patterson
Jr. Percentage Boer Doe-12-24 Months—Matthew Bruce
Jr. Boer Goat Showman--Ashley Kuhn
Jr. Boer Goat Reserve Showman—Carrissa Shaw
Intermediate Boer Goat Showman—Emily Klem
Intermediate Boer Goat Reserve Showman—Ellie Shuter
Sr. Boer Goat Showman—Jacob Kuhn
Sr. Boer Goat Reserve Showman—Alyson Galey
Overall Boer Showman—Jacob Kuhn
Overall Boer Reserve Showman—Alyson Galey
All 4-H Goat Showman—Rozalee Bear
All 4-H Reserve Goat Showman—Reagan Whitehead
HORSE & PONY
Grand Champion Halter Horse—Rozalee Bear
Reserve Grand Champion Halter Horse—Bailey Griffin
Good Grooming—Morgan Lawrence
56" & Under Halter—Erika Kraus
Open Draft Horse Halter—Rozalee Bear
Mare Over 57"—Bailey Griffin
Gelding Over 57"—Sydney Montgomery
Senior Showmanship—Izabella Bear
Reserve Senior Showmanship—Maggie Burkhard
Intermediate Showmanship—Rozalee Bear
Junior Showmanship—Sloane Bashor
Reserve Junior Showmanship—Sydney Montgomery
Novice Showmanship—Bailey Griffin
Reserve Novice Showmanship—Juliet Allen
Grand Champion Showmanship—Izabella Bear
Reserve Grand Champion Showmanship—Maggie Burkhard
English Pleasure—Izabella Bear
Senior Ranch Pleasure—Felicity Bohman
Junior Ranch Pleasure—Sloane Bashor
English Equitation—Morgan Lawrence
Walk Trot-Novice—Bailey Griffin
Walk Trot—Morgan Lawrence
Pony Pleasure 56" & Under—Erika Kraus
Sr. Western Pleasure—Morgan Lawrence
Jr. Western Pleasure—Sydney Montgomery
Jr. Western Horsemanship—Sydney Montgomery
Sr. Trail—Felicity Bohman
Jr. Trail—Sloane Bashor
Sr. Pole Bending—Felicity Bohman
Jr. Pole Bending—Sloane Bashor
Sr. Barrel Race—Felicity Bohman
Jr. Barrel Race—Alizabeth Bear
Sr. Flag Race—Felicity Bohman
Jr. Flag Race—Erika Kraus
Keyhole Sr.—Felicity Bohman
Keyhole Jr.—Sloane Bashor
Sr. Speed & Action—Felicity Bohman
Jr. Speed & Action—Alizabeth Bear
Egg & Spoon Fun Class—Morgan Lawrence
Chin & Apple Fun Class—Morgan Lawrence
Ribbon Race—Sloane Bashor, Alizabeth Bear
High Point Jr. Performance—Sloane Bashor
High Point Sr. Performance—Izabella Bear
High Point Jr. Contesting—Sloane Bashor
High Point Sr. Contesting—Felicity Bohman
POULTRY
Grand Champion Market Duck—Emma Gutfreund
Champion Exhibition Female Duck—Emma Gutfreund
Reserve Champion Exhibition Male Duck—Bryson Batch
Champion Exhibition Duck—Emma Gutfreund
Reserve Champion Exhibition Duck—Emma Gutfreund
Grand Champion Market Poultry—Evan Kuhn
Reserve Grand Champion Market Poultry—Bo Ober
Grand Champion Female Poultry Pair—Emma Gutfreund
Reserve Grand Champion Female Poultry Pair—Evan Kuhn
Best Exhibition In Show Exhibition Poultry—Tyler Stenger
Bantam Pullet Class Winner—Tyler Stenger
Champion Roaster Pair—Riley Shumate
Bantam Cockerel Class Winner—Tyler Stenger
Reserve Best Exhibition In Show Exhibition Poultry—Emma Gutfreund
Large Fowl Cock Class Winner—Riley Shumate
Champion Exhibition Bantam—Tyler Stenger
Reserve Champion Exhibition Bantam—Tyler Stenger
Bantam Cock Class Winner—Tyler Stenger
Bantam Hen Class Winner—Tyler Stenger
Large Fowl Hen Class Winner—Charlotte Studt
Champion Hen Pair—Emma Gutfreund
Champion Broiler Pair—Evan Kuhn
Champion Pullet Pair—Evan Kuhn
Champion Exhibition Large Fowl—Riley Shumate
Reserve Champion Exhibition Large Fowl—Charlotte Studt
Large Fowl Cockerel Class—Emma Gutfreund
Large Fowl Pullet Class Winner—Megan Ryan
Champion Brown Shell Eggs—Evan Kuhn
Champion White Shell Eggs—Emma Gutfreund
Champion All Other Variety Eggs—Josephine Shaut
Novice Poultry Showman—Braven Combs
Junior Poultry Showman—Megan Ryan
Intermediate Poultry Showman—Tyler Stenger
Senior Poultry Showman—Mary Ryan
Rabbit Ambassador Intermediate—Brettlyn Haugh-Holland
Rabbit Ambassador Senior—Autumn Mitchell
Rabbit Ambassador Master—Anna Bergmann
Rabbit Meat Pen Class Winners—Cassie Callahan, Jake Lutz, Megan Lutz, Nolan Stenger
Best of Show Grand Champion Rabbit—Beckett Wagner
Best of Show Reserve Grand Champion Rabbit—Hayden Werner
Best of Breed Winners—Brettlyn Haugh-Holland, Cassie Callahan, Hayden Werner, Autumn Mitchell,
Avery Harrington, Charleigh Fox, Bronson Ober, Braven Combs, Anna Bergmann, Nora Hisle,
Sarah Combs, Avery Harrington, Autumn Mitchell
Novice Rabbit Showman—Charleigh Fox
Junior Rabbit Showman—Nolan Stenger
Intermediate Rabbit Showman—Brettlyn Haugh-Holland
Senior Rabbit Showman—Autumn Mitchell
Master Rabbit Showman—Anna Bergmann
Champion Homegrown Rabbit-Jake Lutz
SWINE
Grand Champion Burrow—Lauren Phillips
Reserve Grand Champion Burrow—Alyson Galey
Champion Homegrown Barrow—Wyatt Smith
Champion Barrow-Lightweight Division—Lauren Phillips
Champion Barrow Mediumweight Division—Alyson Galey
Champion Barrow Heavyweight Division—Lauren Phillips
Swine Barrow Class Winners—Rozalee Bear, Alyson Galey, Lauren Phillips, Maegan Galey, Lauren Phillips,
Wyatt Smith, Ashtyn Galey
Grand Champion Gilt—Maegan Galey
Reserve Grand Champion Gilt—Joey Herth
Champion Homegrown Gilt—Wyatt Smith
Champion Litter Class—Wyatt Smith
Champion Chester White Gilt—Maegan Galey
Champion Crossbred Gilt—Joey Herth
Champion Duroc Gilt—Maegan Galey
Champion Hampshire Gilt—Rozalee Bear
Champion Poland China Gilt—Alyson Galey
Champion Yorkshire Gilt—Alyson Galey
Rookie Swine Showman—Ayden Schebler
Junior Swine Showman—Landon Smith
Intermediate Swine Showman—Wyatt Smith
Intermediate Reserve Swine Showman—Rozalee Bear
Senior Swine Showman—Maegan Galey
Senior Swine Reserve Showman—Kari Klem
BEEF
Grand Champion Steer—Caylee Minges
Reserve Grand Champion Steer—Bradley Kolb
Champion Homegrown Steer—Bradley Kolb
Champion Rate of Grain—Joey Herth
Beef Steer Class Winners—Jacob Kuhn, Emily Klem, Izabella Bear, Cole Minges, Bradley Kolb,
Caylee Minges
Grand Champion Heifer—Caylee Minges
Reserve Grand Champion Heifer—Bradley Kolb
Champion Homegrown Heifer—Izabella Bear
Champion Angus Heifer—Cole Minges
Champion Commercial Heifer—Jack Rosenberger
Champion Hereford—Kari Klem
Champion Mainetainer Heifer—Bradley Kolb
Jr. Beef Showman—Caylee Minges
Jr. Beef Reserve Showman—Jack Rosenberger
Intermediate Beef Showman—Cole Minges
Intermediate Beef Reserve Showman—Rozalee Bear
Sr. Beef Showman—Izabella Bear
Sr. Beef Reserve Showman—Bradley Kolb
DAIRY
Grand Champion Dairy Female—Bernadette Wismann
Reserve Grand Champion Dairy Female—Damien Dunn
Champion Homegrown Diary Female—Oliver Wismann
Champion Holstein Female—Damien Dunn
Champion Jersey Female—Bernadette Wismann
Rookie Dairy Showman—Damien Dunn
Rookie Reserve Dairy Showman—Sawyer Wismann
Jr. Dairy Showman—Oliver Wismann
Intermediate Dairy Showman—Nicholas Wismann
Sr. Dairy Showman—Bernadette Wismann
Overall Dairy Showman—Nicholas Wismann
Overall Dairy Reserve Showman—Bernadette Wismann
All 4-H Dairy Showman—Jacob Miller
All 4-H Reserve Dairy Showman—Riley Shumate
LIVESTOCK SHOWMANSHIP
Champion Supreme Showman-Large Animal—Maegan Galey
Reserve Champion Supreme Showman-Large Animal—Alyson Galey
Champion Supreme Showman-Small Animal—Autumn Mitchell
Reserve Champion Supreme Showman-Small Animal—Bryson Batch
Champion Supreme Showman-Small Animal—Autumn Mitchell
Reserve Champion Supreme Showman-Small Animal—Bryson Batch