The JCAP Art Show was held throughout last November.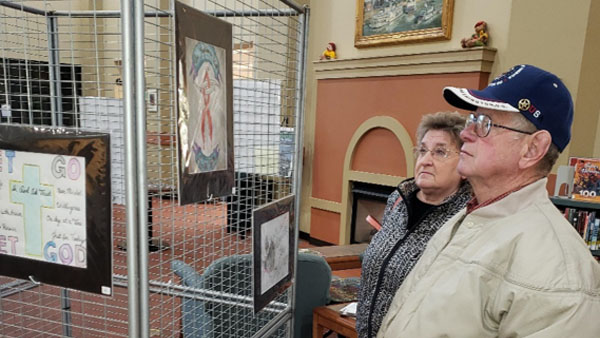 (Photo provided.)
(Dearborn Co., Ind.) - Art can be a healing property and healthy outlet for many individuals that fight addiction. Dearborn County's Jail Chemical Addictions Program (JCAP) decided to showcase some of the artwork made by participants in their program.
Throughout the month of November 2019, 16 men in the Dearborn County JCAP participated in an art contest focusing on healing and recovery.
Pieces of art from the men were displayed at the Lawrenceburg Public Library for one week.
This art show was broken up into separate contests.
The first show was judged by Jail Matron Kathi Parat, CASA Director Bevin Van Wassenhove, and Honorable Judge McLaughlin.
The official winner from this contest was Jason Sumler. Second place was Dustin Smith and third place Jacob Gutzwiller.
Additionally, community members had the opportunity to vote for their favorite artwork.
Results for the community vote were, Dustin Smith taking first place, Jason Sumler taking second, and third place for Ian Leek.
Learn more about Dearborn County JCAP here.