Runway 9/27 has been closed since March for a $69 million rehab project.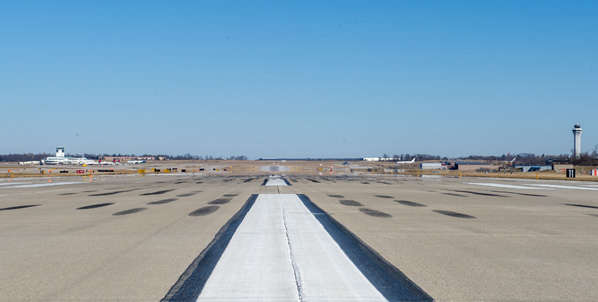 Runway 9/27. Photo by Cincinnati/Northern Kentucky International Airport.
(Erlanger, Ky.) – Residents of Dearborn County may soon hear increased air traffic.
Runway 9/27, the longest and most utilized runway at Cincinnati/Northern Kentucky International Airport is expected to reopen in October.
The runway has been closed since March for a $69 million rehab project that includes new asphalt, concrete and lighting.
According to CVG's Director of Communications, Seth Cutter, contractors are on track to complete rehab work in a few weeks.
When Runway 9/27 reopens in October, more normal air traffic patterns for arrival and departure corridors will return.
"Communities to the east and west of the airport, which normally may be impacted by aviation noise but have not noticed much activity this year because of the Runway 9/27 closure, may begin to again hear more usual activity once the runway reopens. This may include impacts in the overnight and early morning hours," Cutter added.
Runway 9/27 is 12,000 feet long, and is typically used by cargo carriers for the largest and heaviest aircraft. A team of more than 15 licensed engineers completed the design for the project, with nearly 150 staff dedicated to project delivery.
A project of this magnitude and complexity would typically take two construction seasons to complete. However, CVG, the FAA and cargo stakeholders worked in partnership to ensure alignment of both funding and project schedules.
This approach, along with intensive upfront engineering and strategic execution planning, has enabled this project to be completed in one season, minimizing impact to nearby communities, cargo operations, and the overall 7,700-acre campus operation.
For more information, visit Runway 9/27 Improvement (cvgairport.com).
RELATED STORIES
CVG Closes Longest, Most Used Runway For Rehab Project