Delivery of new 95-gallon recycling cans is scheduled to start next week.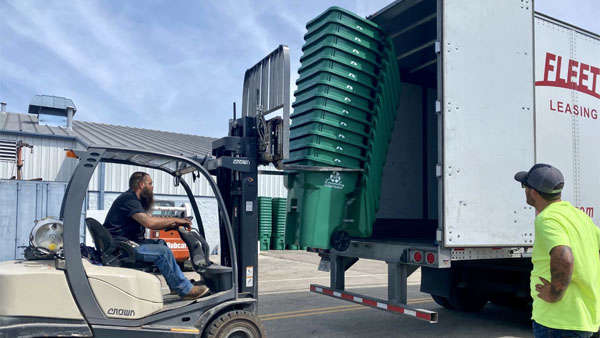 Photo provided.
(Lawrenceburg, Ind.) - Meet your new recycling cans! No more sorting, bending, or lifting – the new 95-gallon green recycling cans will have two wheels for easy maneuvering and a lid to keep things tidy. The extra space will make recycling easier and provide more room for storage.
Eligible households within the City of Lawrenceburg, Indiana that are six units or less may receive a free 95-gallon recycling can per unit. The Lawrenceburg Civil City Garage will begin delivery of the new green recycling cans to residential homes starting August 25. All residents should have their new can by September 2. Recycling Cans are assigned to a specific address. An information packet with a Welcome Letter, Acceptable Recycling Items & Information Sheet along with a FAQ's list is included with each new recycling can at delivery.
Effective September 6, citywide trash and recycling collection services will occur once a week.
ROUTE A - TUESDAY
If your garbage was collected on Monday & Thursday, the new trash collection date will be Tuesday.
ROUTE B - WEDNESDAY
If your garbage was collected on Tuesday and Friday, the new trash collection date will be Wednesday.
RECYCLING CAN PICKUP -THURSDAY
NO TRASH OR RECYCLING PICKUPS ON HOLIDAYS
Recycling Bags are now available for City of Lawrenceburg condo/apartment residents to participate in recycling.
RECYCLING 24/7 DROP OFF LOCATIONS include:
Lawrenceburg Fairgrounds on US 50.
Lawrenceburg Fire Department on Bielby Rd.
Visit www.THINKLAWRENCEBURG.com or contact the Lawrenceburg Civil City Garage at 812-537-7138 for more information and assistance.
Thank you for your participation to help create a healthy Lawrenceburg. The Lawrenceburg Recycling Program is sponsored by the City of Lawrenceburg with funding in part from The Recycling Partnership.