Six winners were selected across three age divisions.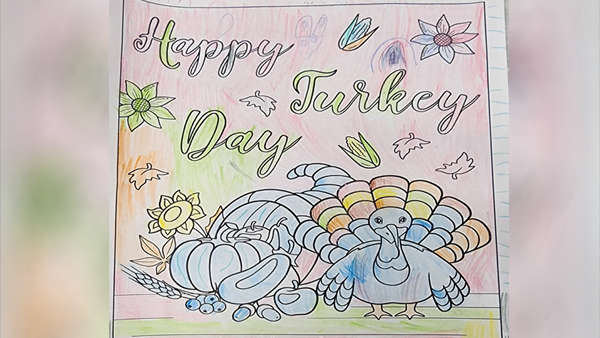 PreK 1st Place (Arden). Photo provided.
(Lawrenceburg, Ind.) - Winners have been announced for the Thanksgiving Coloring Contest sponsored by the City of Lawrenceburg Clerk Treasurer's Office.
Lawrenceburg Clerk Treasurer Mark Fette shared the 1st and 2nd place winners for each age category: Preschool, Grades K-3 and Grades 4-6. This year's theme was "Reasons to be Thankful" including family, friends, community and characters from Disney World.
Thanksgiving Coloring Contest Winners!
PreK:
1st Place Arden -Age 4
2nd Place Hudson -Age 3
K-3:
1st Place Marina -Age 8
2nd Place Izrheal -Grade 2
Grades 4-6:
1st Place Kairi -Grade 4
2nd Place Evangeline -Grade 6
Each child who submits a coloring page will receive a goodie bag. Winners will be notified via the phone number provided on the artwork.