The Fire Truck Pull to benefit Special Olympics Indiana takes place Saturday at Civic Park.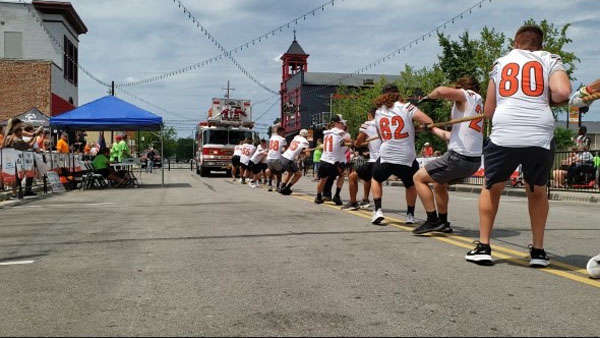 The Lawrenceburg Tigers at the 2021 Fire Truck Pull. Photo by Travis Thayer, Eagle Country 99.3.
(Lawrenceburg, Ind.) – Street closures will be in place Saturday in downtown Lawrenceburg for the Special Olympics Indiana Fire Truck Pull.
The City of Lawrenceburg announced today that the following streets will be closed on Saturday, August 13 between 7:00 a.m. and 5:00 p.m.
Lawrenceburg Civic Park is closed to traffic
E. High Street between Short Street to the alley between Short Street and Elm Street
Short Street between New Street to Proof 124
Parking for the event will be available at the Ivy Tech Parking Garage.
Motorists are asked to use Walnut Street or New Street to access the garage.
For more information and to register a team for the fire truck pull, visit 2022 Fire Truck Pull - Special Olympics Indiana - Ripley Ohio Dearborn Counties (soindiana-rod.org).
Proceeds from the event stay local to support Special Olympics Athletes train year-round and travel to competitions.