In 2018, Cincinnati State became one of the first community colleges in the state to begin awarding applied bachelor degrees.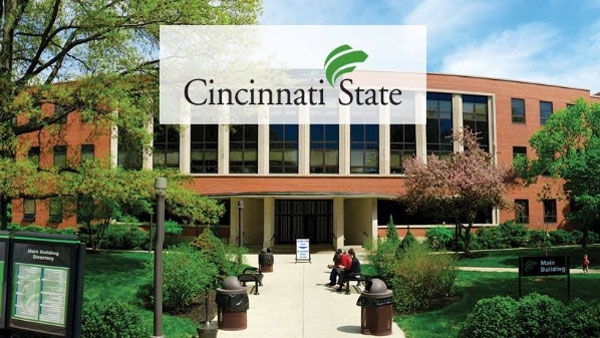 (Cincinnati, Oh.) - Cincinnati State's upcoming June commencement will include a first-ever event for the technical and community college—the awarding of 21 Bachelor of Applied Science degrees in Land Surveying.
"We are so proud of these students, and of our Land Surveying program," said Dr. Monica Posey, president of Cincinnati State. "Area employers have wanted this to happen for a long time, and we are honored to have been able to meet this crucial workforce need."
On May 7, Ohio Department of Higher Education Chancellor Randy Gardner visited Cincinnati State, where other government and college officials, employers, and students joined him to honor the new bachelor degree graduates as part of Ohio's In-Demand Jobs Week.
"In-Demand Jobs Week is about promoting those fast-growing industries and those careers that meet a need in the different regions of Ohio," Chancellor Gardner said. "Cincinnati State's land surveying program means students in the program don't have to leave Ohio to get their bachelor's degree, and they're well prepared for a successful future."
Since it began in 1969, Cincinnati State has awarded two-year associate degrees and certificates, but bachelor's degrees in Ohio have long been the exclusive purview of four-year colleges.
That changed in early 2018 when the Ohio Department of Higher Education approved Cincinnati State as one of the first community colleges in the state to begin awarding applied bachelor degrees.
To win the approval, Cincinnati State had to show that its bachelor's degrees would be in fields where there was a strong workforce need and no nearby 4-year colleges with a similar program.
"Employers have needed this since bachelor's degrees became required in Ohio to obtain surveying licensure," said Carol Morman, chair of Cincinnati State's Land Surveying program. "It is a great field with many high paying job opportunities."
Every one of Cincinnati State's 21 new Land Surveying bachelor degree graduates has landed a job in the industry, at salaries above $55,000.
Six more students are expected to earn their bachelor degree in surveying at the end of the summer semester. Overall, about 50 students were enrolled in the program this year.
"This new degree is a game changer for us, we need these young people in our profession," said Steve Cahill, president of Abercrombie and Associates Inc., a civil engineering and surveying firm in Cincinnati.
"A lot of hard work went into developing this program, from the college and the survey community. We see this historic program as the future of our profession."
In addition to land surveying, Cincinnati State also won state approval to offer a Bachelor of Applied Science degree in Culinary and Food Science. That program now has more than 40 students in the pipeline.
"The Culinary and Food Science program teaches skills that will position students to meet the emerging needs of the food industry," said Program Chair Grace Yek. "Graduates will have a broad range of career opportunities, such as food product development, quality assurance, manufacturing, and even food regulation."
For more information about Cincinnati State's bachelor's degrees, go online at cincinnatistate.edu, or call 513-861-7700.