Indiana's U.S. Senate race is entering the final week.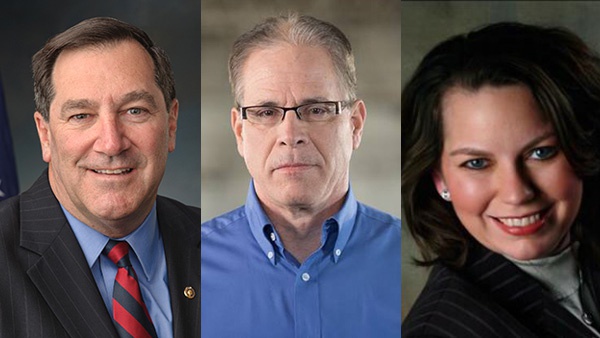 Indiana U.S. Senate candidates (left to right) Joe Donnelly, Mike Braun, and Lucy Brenton.
(Undated) - Another day and another poll in the race for Indiana's US Senate seat.
Again, polling suggests the campaigns for between Democratic Senator Joe Donnelly and his Republican challenger, businessman Mike Braun, are neck-and-neck.
A new CBS News poll out Sunday gives Braun a 46-to-43 percent advantage with about a week to go before the election on November 6. Libertarian candidate Lucy Brenton received 3 percent support. Eight percent of the 975 likely voters polled between October 23 and 26 were not sure who they will vote for.
The difference is within the poll's margin of error.
"In Indiana, where many voters say that agriculture plays a role in their economy, three-quarters of Republicans feel that new tariffs will ultimately lead to better trade deals for the U.S.," says CBS News.
"President Trump appears to be a large factor in these states. In all of them, large majorities say their vote for Senate will be either to support or oppose the president."
Some other recent polls have had Donnelly ahead of Braun.
RELATED STORIES:
Poll: With Donnelly And Braun Evenly Split, Libertarians And Undecideds Will Determine Senate Race