The 80-foot tree will make a quick visit to Harrison, Ohio before continuing to Washington, D.C.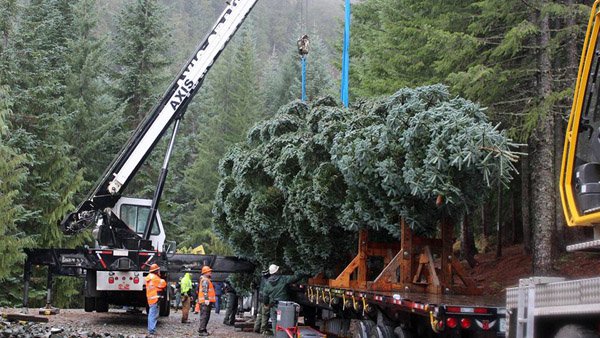 The U.S. Capitol Christmas Tree was harvested in Oregon on November 2. It will visit Harrison, Ohio on November 23. Photo courtesy U.S. Forest Service - Willamette National Forest.
(Harrison, Oh.) - A very special Christmas tree will be traveling through Harrison this month.
The tree that will be displayed at the U.S. Capitol Building in Washington, D.C. is stopping at 20 communities across the country on its way to the capitol.
Harrison is on the list of stops. "The People's Tree" and its convoy will be in The District at 101 Harrison Avenue in downtown Harrison on Black Friday, November 23, from 2:00 until 6:00 p.m.
All are welcome to come get a look at the 80-foot tall Noble fir as it lay on a truck bed.
After selection by the Architect of the Capitol with consultation from the U.S. Forest Service, the Capitol Christmas tree was harvested November 2 at Willamette National Forest in Oregon. It is navigating the Oregon Trail in reverse all the way to Washington.
The tree will be lit at the Capitol by Speaker of the House Paul Ryan on Wednesday, December 5.
For tour information, event details, news and updates, and to track the tree cross-country, visit www.capitolchristmastree.com or www.fs.usda.gov/willamette.