As he surges in the polls, "Mayor Pete" makes it official that he is running for U.S. president.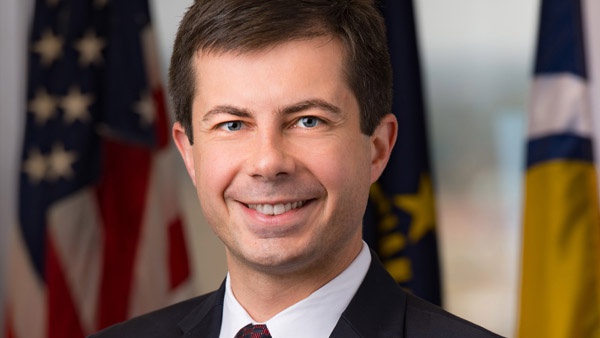 South Bend mayor Pete Buttigieg. City of South Bend photo.
(South Bend, Ind.) - South Bend, Indiana Mayor Pete Buttigieg is officially entering the 2020 presidential race as a Democrat.
At a rally in his hometown, "Mayor Pete" said he is running to take America into a new direction and start a new chapter.
"The question of our time is whether families and workers will be defeated by the changes beneath us, or whether we will master them and make them work toward a better everyday life for us all," he said.
Buttigieg raised more than $7 million in the first quarter of 2019 and has placed third in recent weeks in multiple polls of Democratic voters in Iowa.
Buttigieg proclaimed South Bend's revival is the answer to skeptics who ask how he has the "audacity" to run for president.
As a 37-year-old leader, his main message is that he represents the claim to leadership of millennial Americans, those who will be on the "business end" of climate change and left to clean up the messes that current leaders have made of health care, immigration and college costs.
Here are my four favorite photos from @PeteButtigieg's rally to officially announce his candidacy for President of the United States. It wasn't easy getting around the crowd for these angles. #PeteAnnounces #PeteButtigieg2020 pic.twitter.com/38JDZcl793

— Robert Franklin (@TheRobFranklin) April 14, 2019
He called "Make America Great Again" a myth being told to rural and industrial areas, because it was never really great to begin with.
Buttigieg, a veteran who served in Afghanistan, hopes to become the first openly gay and youngest-ever U.S. President.
Indiana Republican Party chairman Kyle Hupfer said in a statement Buttigieg has been bashing President Donald Trump, attacking VP Mike Pence, and neglecting his duties in South Bend for two years.
"Pete Buttigieg announced what we all knew he was up to the whole time," said Hupfer. "But no amount of mudslinging, unhinged political rhetoric or time rubbing elbows with the coastal liberal elite will hide the facts of his failed tenure as mayor of South Bend. Poverty and eviction rates are high and crime is plaguing the city. If he can't effectively run a city of barely 100,000, how is he supposed to lead a nation of 300 million-plus?"
RELATED STORIES:
South Bend Mayor Announces Exploratory Committee For President