UPDATE: Police responded to a shooting at Concepts Gentlemen's Club in Lawrenceburg Wednesday afternoon.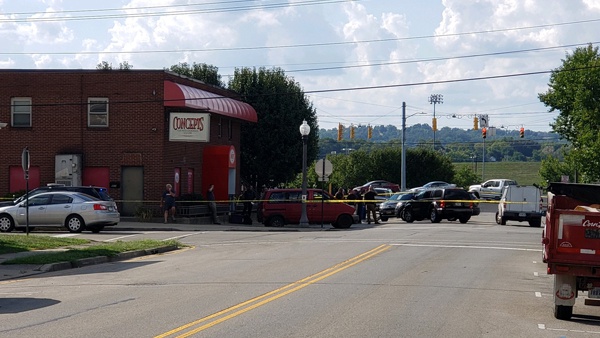 The scene outside Concepts Gentlemen's Club in Lawrenceburg on Wednesday, August 14, 2019. Photo by Travis Thayer, Eagle Country 99.3.
Update published Thursday, August 15:
Formal charges are pending against the person accused of a robbery and shooting at a Lawrenceburg strip club Wednesday.
A person entered Concepts Gentlemen's Club on Arch Street around 4:30 p.m. Reports state the suspect fired several shots before helping himself to the cash register.
The robber was captured by officers following a brief chase and is currently held in jail at the Dearborn County Law Enforcement Center. The suspect's name has not been released as formal charges are pending.
Despite multiple shots being fired inside the business, no injuries were reported.
The club is just across from Lawrenceburg High School. Activities there and other youth sports events in the area were canceled Wednesday evening as word of the situation got out.
Original story published Wednesday, August 14:
(Lawrenceburg, Ind.) - Police are on the scene of a reported shooting at Concepts Gentlemen's Club in Lawrenceburg.
The shooting was first reported just after 4:30 p.m. Wednesday at the bar located on the 600 block of Arch Street.
It is unclear if anybody was injured.
Dearborn County Sheriff Shane McHenry says that police feel the investigation is under control. One person is in custody, he said. No injuries have been reported.
County deputies as well as Lawrenceburg Police and Indiana State Police were observed at the scene.
The scene is near Lawrenceburg High School, where some events tonight have been canceled due to the police situation.
Meet Your Tiger Night is cancelled tonight due to ongoing active police situation across from school. It is being rescheduled for tomorrow night at 7:30 pm.

— Karl Galey (@galeykarl) August 14, 2019
Eagle Country 99.3 will share more information as it is made available.
Report of a shooting at Concepts Gentlemen's Club in Lawrenceburg. We have a reporter on the scene working to find out more. pic.twitter.com/rc0QdQqDVa

— Eagle Country 99.3 (@eagle993) August 14, 2019