The wreck happened Friday on State Road 46 in Batesville.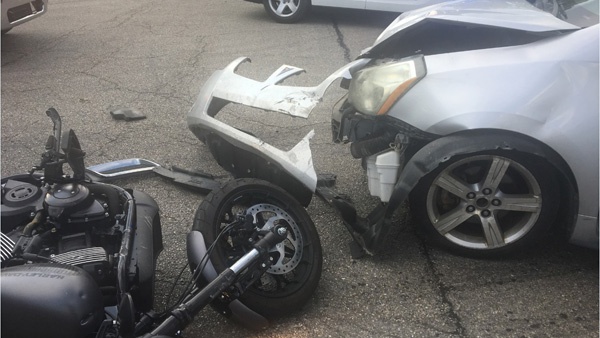 Photo provided.
(Batesville, Ind.) - A motorcycle collided head-on with a car on State Road 46 in Batesville Friday, September 6, sending the biker to the hospital.
Batesville Police say Eykis B. Fullenkamp, 20, of Batesville, was operating a 2017 Harley-Davidson heading eastbound on State Road 46 at around 6:02 p.m. when a 2009 Pontiac passenger car driven by Rose M. Foster, 59, pulled into his path.
Officers say Foster was turning off the highway in an attempt to access Mitchell Avenue.
Fullenkamp's motorcycle collided with the front of Foster's vehicle, ejecting Fullenkamp from the back and into the curb on Mitchell Avenue.
Police say Fullenkamp was wearing a helmet. He was treated by Batesville EMS, then transported to Margaret Mary Health with non-life threatening injuries.
Batesville Fire and EMS assisted BPD at the scene.