The Little Library was part of a monthly community service project.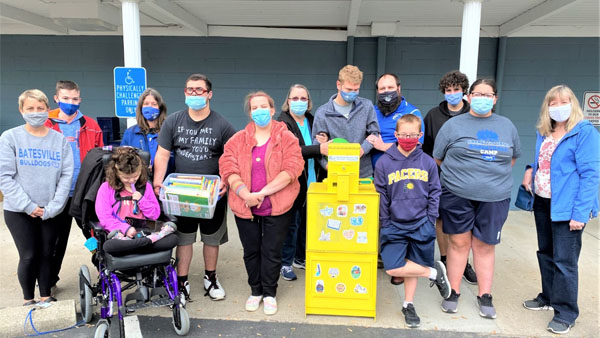 BHS teacher Traci Rowlett (from left), students Noah Roberts and Sarah Suttman, instructional assistant Peggy Lecher, students Brandon Manning and Emily Addison, instructional assistant Cindy Long, student Drew Prickel, instructional assistant Curtis Miller and students Matthew Kuntz, Isaac Kramer and Ellie Holt present the Little Free Library to Batesville Area Resource Center board member Debbie Blank. "We are very excited to bring it to BARC," Rowlett says. Not pictured are instructional assistant Sarah Abshear and students Brynna Deamron, Eric Scoggins and Scott Scoggins. Photo provided by Batesville Area Resource Center.
(Batesville, Ind.) - Batesville High School special education teacher Traci Rowlett and her students have been working on a project to make books more available to community members.
The Batesville Community Free Little Library can be found near the food pantry outside of the Batesville Area Resource Center.
Rowlett says her class decided to create a Little Library as part of their monthly community service projects.
The former newspaper box was donated by a local news outlet and is registered with littlefreelibrary.org.
Rowlett adds, "We are planning to continue stocking the library with books for years to come!" Area residents are also invited to donate.