Abigail Burris was sworn in on Monday.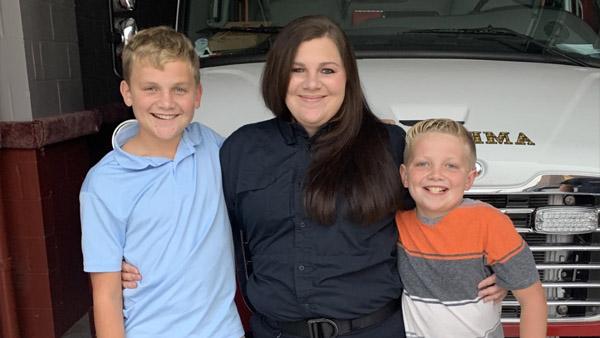 Abigail Burris with her children, Ryan and Trent. Photo provided.
(Batesville, Ind.) - Batesville Fire & Rescue announces the hiring of Abigail Burris for the position of Firefighter/Paramedic.
Burris was sworn in by Batesville Mayor Mike Bettice at the City Council meeting on Monday, October 12.
She joins Batesville Fire & Rescue after serving as a paramedic with Columbus Regional Health. The 2008 Milan High School graduate also attended and graduated from the Franciscan Health Paramedic program in Greenwood last year.
"I am really excited to be serving the community my boys are growing up in and where my family lives," said Burris. "This was my ultimate goal as I've always wanted to help people and be able to do this at home serving my own community."
Burris resides in New Point with her husband, Christopher, and two children, Ryan, 13, and Trent, 10.