Shirts will be on sale through the month of October.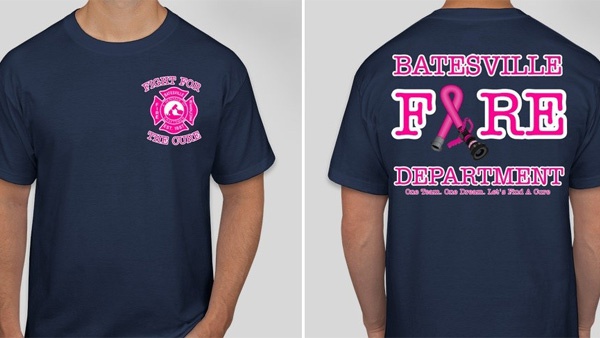 Photo provided.
(Batesville, Ind.) - Batesville Fire & Rescue is launching a t-shirt fundraiser during Breast Cancer Awareness Month to benefit the Margaret Mary Health Foundation.
The Fight for the Cure fundraiser allows community members to purchase a customized shirt for $20 through the month of October and the shirts will be delivered following the fundraiser.
Batesville Firefighter/ EMT Spencer Broughton designed the shirt and says the goal is to raise more than $1,000 for the MMH Foundation.
"With the City participating in Paint the Town Pink, I spoke with Chief Todd Schutte about how we could get the department involved in some way," said Broughton. "I know fire department t-shirt fundraisers are common and I think this is a good way to raise some money."
You can purchase the shirt by going to Batesville Fire & Rescue's Facebook page or by clicking this link: https://www.customink.com/fundraising/batesville-fire-department-breast-cancer-awareness.
The Margaret Mary Health Foundation was established in 2012 to ensure the hospital's legacy of quality and compassionate care continues for generations. We engage the community as partners in health improvement and raise funds to enhance hospital programs, services and technology. Thanks to our generous donors, the Foundation has been able to provide a variety of grants.