The amenities look outstanding.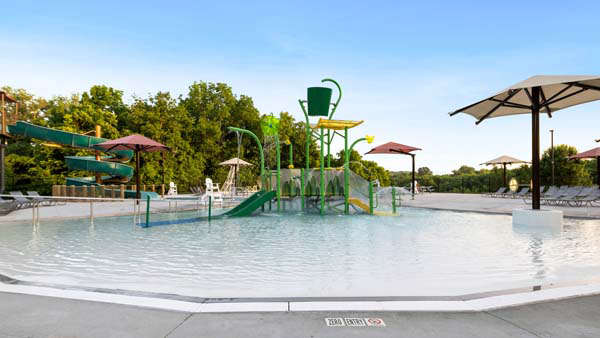 The Aurora Family Aquatic Center. Photo by A.J. Waltz, Waltz Photography LLC.
(Aurora, Ind.) – The wait is over.
The brand-new Aurora Family Aquatic Center opens today.
City manager Derek Walker tells Eagle Country 99.3 that the pool will open at noon.
The new pool is opening early, according to Walker, as there is still some work to be done, including sodding and pavement work outside the pool area.
"We appreciate your patience and understanding," said Walker. "We wanted to make sure we passed all inspections before we announced our opening."
Maxwell Construction broke ground on the pool on October 1 of last year. The project was largely financed by the City of Aurora, who agreed to put $2.5 million towards the new pool. Beyond that, the city launched a "Fill the Pool" fundraiser with a goal of $1 million, which was close to being met as of the groundbreaking last October.
The pool has been filed and surrounded by a water slide, kids area, rock climbing wall, volleyball net and basketball hoop. More than a dozen lifeguards are on the staff.
Starting off, the pool will only be accepting day passes until member management software is sorted out. Visitors are asked to keep their receipts and the city will offer money off memberships when they become available.
Day passes are $5 per person. Children ages 3 and under get in free.
Pool hours are as follows:
18+ Lap Swim: Monday-Friday from 11 AM to noon. (No children, no exceptions)
All swim: noon to 6 PM
Lifeguard breaks: 2:00 and 4:00 PM
Pool rental will also be available seven days a week from 6:00-8:00 PM. Requests must be approved before they are confirmed to ensure lifeguards are available. A deposit of 5- percent is due seven days from the date confirmation.
The rate is $200. The non-profit rate is $150.
For more information, visit Aurora City Pool | Aurora Parks and Rec.
RELATED STORIES
City Of Aurora Breaks Ground On Family Aquatic Center