The Phone-A-Thon will be held this Sunday, February 23, from 12 - 6 PM.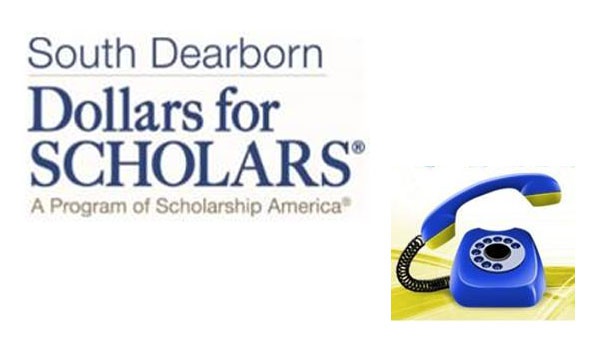 (Aurora, Ind.) - South Dearborn Dollars for Scholars (SDDFS) will be having their 16th annual Phone-A-Thon this Sunday, February 23, from 12 - 6 PM.
SDHS students will be calling residents in the South Dearborn school district, South Dearborn Alumni, and past recipients and their parents to request pledges.
Those who choose to donate to the Phone-A-Thon will have the opportunity to pick where they would like their donation to go, whether it be a named or general scholarship.
New to the Phone-A-Thon this year, any donor that pledges $50 or more will be entered into a drawing. The winner will get to name a new 2020 scholarship.
This $250 scholarship can be named after the winner or a loved one, a family or business, a favorite teacher, or can be designated for a student on a sports team or club or for a student who plans to attend your favorite college or for a student who plans to study your favorite subject.
There will also be a "pay it forward" option for the SDDFS alumni. An anonymous donor will be donating $5 for every past recipient that donates.
With 900 past recipients from 1991 to 2019, this has promise to be a large contribution to SDDFS.
SDDFS is the local chapter of a national organization, Scholarship America, that has awarded over $903,000 to help 900 different students.
This organization gives over 45 scholarships for businesses, organizations, and families to graduating seniors who are going to college or vocational school.
Scholarships given can be anywhere from $250 to $2,500. Added up, these scholarships can help students tremendously.
SDDFS would like to remind the community that every dollar makes a difference. Funds collected go straight to help the students obtain further education.
"To all of our potential donors, remember this - We wish we had millions of dollars to award but until then we want all of our recipients to realize that each dollar awarded came from a local resident or business who believes that you are worth educating and is a vote of confidence that you are a great person who can achieve great things."
If you are interested in donating on Sunday, call (812) 528-5138 or email sddfs1991@gmail.com, to be put on the call list.
You also have the ability to make a donation at any time by visiting the South Dearborn Dollars for Scholars website.
Find out more about the Phone-A-Thon and how to get involved by checking out the SDDFS Facebook page.
Bubba Bo had the opportunity to speak with some South Dearborn students who will participating in the Phone-A-Thon this weekend.
Liz Yelton and Marcus Raab gave the full rundown on what to expect if you get a call and what to do after.
Listen here for this morning's interview: