Formalities were checked off at the Indiana Statehouse Tuesday.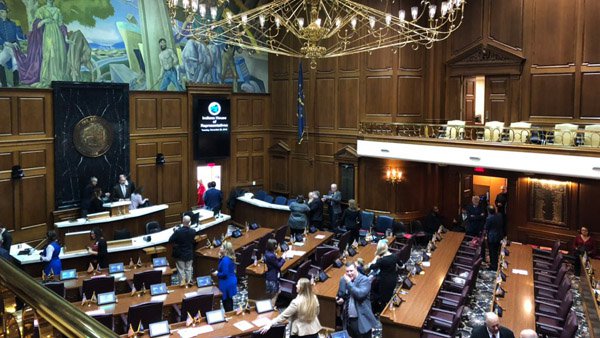 Indiana House of Representatives on Organization Day, November 20.Photo via @INHouseGOP, Twitter.
(Indianapolis, Ind.) – While you set the table for Thanksgiving, Indiana lawmakers are setting the table for the 2019 legislative session.
Organization Day was held at the Statehouse Tuesday. State representatives and senators elected earlier this month were sworn into office. Once again, Republicans will hold walkout-proof supermajorities in both the House and Senate.
A new Senate President was sworn in: Senator Rodric Bray. The Martinsville Republican is the first new senate president in 12 years following Senator David Long's retirement.
When the session begins January 3, lawmakers will begin crafting Indiana's next two-year state budget. Other topics likely to garner headlines include a hate crimes law and improvements at the Indiana Department of Child Services.
The session must conclude by April 29.
Happy Organization Day! I was excited to host members from all four caucuses this morning for a leadership brunch to discuss the upcoming session. pic.twitter.com/8GFPNgKWpI

— Eric Holcomb (@GovHolcomb) November 20, 2018
State Senator Chip Perfect (R-Lawrenceburg) says he looks forward to addressing issues facing Indiana's economy and advocating for funds to support Hoosier workers.
"It is an honor to once again be sworn in as the State Senator representing District 43, and I am eager to get to work this legislative session to continue improving our communities and state," Perfect said.
In the House, Brian Bosma (R-Indianapolis) was elected again Speaker of the House, his sixth two-year term in the position.
State Rep. Randy Frye (R-Greensburg) says it is time for lawmakers to get back to work.
"We have a lot to do to accomplish the state's priorities this legislative session, the biggest being creating an honestly balanced state budget. I will also continue advocating for the health and protection of public safety officers."
Frye told Eagle Country 99.3 on Tuesday that he is glad Indiana voters passed a balanced budget amendment for Indiana's constitution in the November 6 election.
Congratulations to our new state legislators! We know you will serve your districts and all Hoosiers well at the Statehouse! pic.twitter.com/ZjO6khh0JU

— Indiana Democrats (@INDems) November 20, 2018