Aurora mayoral candidates shared their ideas for addressing infrastructure and housing issues on Eagle Country 99.3 on Wednesday.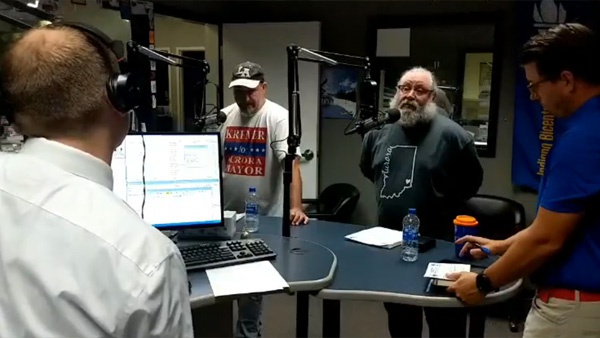 Aurora mayoral candidates shared their ideas and qualifications on Eagle Country 99.3 on Wednesday, April 24.
Aurora Republican Candidates for Mayor

Aurora Democratic Candidates for Mayor
(Lawrenceburg, Ind.) – Utility upgrades, improving neighborhoods, and aiding businesses were common themes as Aurora mayoral candidates met on the Eagle Country 99.3 airwaves Wednesday.
The Dearborn County Debates were broadcast live. The event was put on in partnership with the Dearborn County Chamber of Commerce.
Each of the four candidates to become Aurora's first new mayor since 2006 appeared. Councilmen Mark Drury and Patrick Schwing are seeking the Republican nomination in the May 7 primary election. The Democratic nomination is up for grabs between businessmen Melvin Kremer Jr. and Dan Valas.
Drury and Schwing debated first, each listing their top priorities. Schwing pointed to the city's water and sewer infrastructure, business attraction, and beautification. He said the city obtaining Community Crossings grants have helped fund some street repairs.
Drury's shared his top issues to tackle if elected mayor. While infrastructure is important, he said his primary focus will be Aurora's housing issue.
"We have a lot of empty spaces. We have a lot of run-down properties which has reduced our assessed value in the town. When there is only so many people to kick into the tax bucket, all of us have to share a little bit larger burden there," said Drury, pointing to the city's declining population.
Drury said he has been active in Aurora's façade improvement grant program, which has encouraged new businesses to come downtown and retaining existing businesses.
First and foremost, Drury said, is to make sure the city's day-to-day operations are running well.
Schwing also touched on how Aurora's declining population is affecting local schools. The school corporation and city, he said, must work more closely together.
"The schools are seeing a decline in students as well because of that. I believe the city and schools suffer and succeed together," said Schwing.
Drury said that while there are fewer people living in Aurora than a decade ago, he doesn't believe it is fair the call the city stagnant. He encouraged citizens to go to the city website and review the city's Big 5 Ideas plan.
Schwing said Aurora must position itself to benefit from the potential Fourth Port to be built on the Ohio River in Lawrenceburg. He said he supports local businesses by shopping local.
While two people currently in city government are on the Republican ballot in Aurora, the Democratic ballot has two mayoral candidates who run businesses in the city. Mel Kremer owns and operates Nite Out Transportation. Valas is the owner of Great Crescent Brewery, which he runs with his wife and son.
Valas has been an Aurora resident for the past 25 years. He says he and his family contribute to the city where they can. He regularly attends city council meetings. He has been involved in business management for "many decades" and is a "uniquely positioned" candidate with business world experience.
"I really observe what is going on and I see how it works. I really don't find that to be a whole lot different than managing anything else and participating in groups where not one person is really responsible for the success or failure of things, but the group at large – city council and all the commissions. There's a lot of people that participate every day that most people don't know or even see. That's what makes it work," Valas said.
Kremer, who wished Aurora Mayor Donnie Hastings Jr. a happy retirement from the mayor's position, previously served a term on city council and has been on the city's utility board. Operating a taxi business allows him to get out and hear directly from citizens.
"Listen and acting in their best interests, not for my own personal gain. My qualifications are from being a lifelong resident and knowing every street and neighborhood in Aurora," Kremer asserted.
Valas said the city should continue to develop successful programs like the façade improvement program.
"These ideas that maybe seem a little far-fetched, but let's work them. There was a lot of resistance to that plan, and here it is, one of the most successful programs we've had in a long, long time," he said.
Valas has operated Great Crescent Brewery for 11 years. Asked about economic development in the city, he observed that the most successful businesses in downtown Aurora have been service businesses.
"I personally would try to bring some of those down and see what we can do to help them get started," Valas said.
Kremer said the best thing the city can do to attract new investment is keep it safe and clean. On that note, his platform includes making garbage pickup for city residents free once again.
"Safe, clean cities are attractive to citizens and visitors. People want to invest in safe, clean cities like Aurora. We'll work with anyone who wants to positively participate," he said.
The candidates who win their party's nomination the May 7 primary election will run against one another in the November 2019 general election in Aurora.