The event was hosted by Lawrenceburg Police.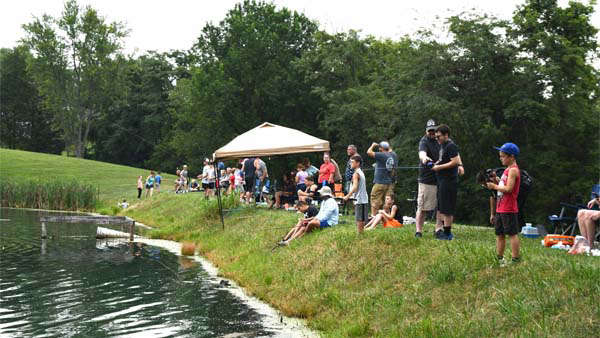 Photo by Lawrenceburg Police Department.
(Lawrenceburg, Ind.) – The Lawrenceburg Police Department has announced the winners from its Get Hooked on Fishing event.
The event took place on Saturday at Ludlow Hill Park.
Youths aged 19 and under competed to see who could catch the largest catfish, bass, and panfish.
The winners are:
8-year-old division: Boston Goodwin (20" bass), Tate Chipman (18" catfish), and Coen Ester (11" panfish).
Ages 9-14 division: Brett Allen and Dylan Bates (14" bass), Brock Gutherie (21" catfish), Jailynne McConnell and Drake Lee (9" panfish).
Ages 15-19 division: Tyler Abbott (12" bass, 17"catfish, 7" panfish).
Prizes for each age group included fishing poles, tackle, clothing, and gift cards.
Several of the prizes and bait were donated by Grandpa's Live Bait in Milan. Lawrenceburg Police also received monetary donations from the Lawrenceburg Eagles, and Humanizing the Badge, a law enforcement and community outreach program.