The park could be fully redone this winter.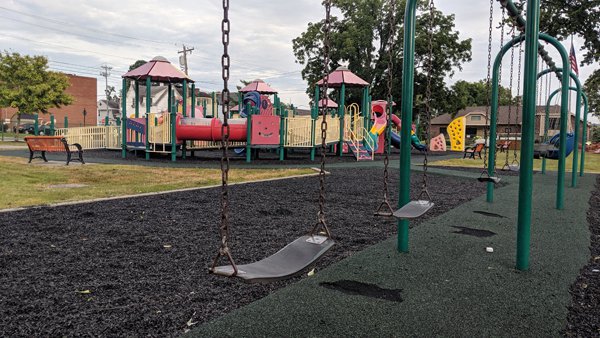 Arch Street Park. File photo.
(Lawrenceburg, Ind.) - Plans are in the works to potentially re-do Arch Street Park in downtown Lawrenceburg.
During Monday's Common Council meeting, discussions were had about re-doing or refurbishing the park amid ongoing issues with the playground equipment and the park's curb appeal.
"The stuff is in pretty bad shape," said Mayor Kelly Mollaun. "It's got some places where we've had to take down some equipment and put a board up. Aesthetically it doesn't look good, and its not safe, and things like that."
The mayor added that the City is looking at pricing right now, and that a 50 percent grant program could be helpful in paying for improvements.
Such improvements would consist of replacing the current playground equipment with a new playground that would be all inclusive for all ages. Councilman Tony Abbott stated that community members have been asking for more playground equipment that is suited for younger kids in the two to four year old range.
Other improvements to Arch Street Park could include a handicap swing, new benches, improved walkways, and turf padding instead of rubber.
Mayor Mollaun said he'd like to form a committee of downtown Lawrenceburg parents, similar to what was done with the Ludlow Hill Park project, to help with planning.
If Council passes plans to re-do Arch Street Park, demolition could happen this winter with the new park being ready for use in Spring 2021.
Check back for updates.
RELATED STORIES:
New Playground Installed At Lawrenceburg's Ludlow Hill Park