If you are a man looking to engage into a deeper relationship with Christ, this event is for you.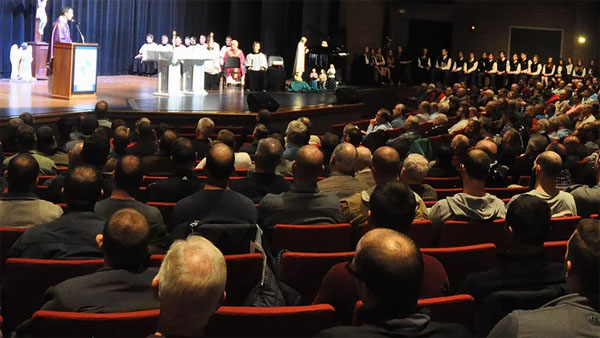 (St. Leon, Ind.) – Men from in and around Eagle Country will soon gather in St. Leon to engage into a deeper relationship with Christ.
The All Saints Parish, in association with the Batesville Deanery, is hosting its 4th annual E6 Catholic Men's Conference on February 23 at the East Central High School Performing Arts Center from 8:00 a.m. to 3:30 p.m.
This year's guest speakers are Mark Hart, Trent Horn, Justin Fatica and Fr. Jonathan Meyer.
Attendees will also enjoy a worth celebration of the sacraments, engaging talks to strengthen their faith, opportunities for true fraternity and exposure to good resources to aid them in living in their faith as Disciples of Christ.
Admission is $40 and includes lunch. Registration for the event ends February 22.
For more information, visit www.e6catholicmensconference.com.
Bio's for the guest speakers can be seen below.
Mark Hart - Mark Hart serves as Executive Vice President for Life Teen International. A graduate from the University of Notre Dame, Mark is a best-selling and award-winning author (or co-author) of over a dozen books. His wildly popular DVD Bible Study Series,"T3″ is revolutionizing Catholic youth/young adult Scripture Study. He has traveled the globe speaking to millions of souls, maintains a daily social media ministry (through Facebook and Twitter) and is a regular guest on several Catholic radio programs.
Trent Horn - After his conversion to the Catholic Faith, Trent Horn earned a master's degree in theology from Franciscan University of Steubenville, a master's degree in philosophy from Holy Apostles College, and is pursuing a master's degree in bioethics from the University of Mary. As a staff apologist for Catholic Answers, he specializes in teaching Catholics to graciously and persuasively engage those who disagree with them. He has given over five hundred presentations to audiences around the world and has spoken at events sponsored by Life Teen, The Fellowship of Catholic University Students (FOCUS), and the Franciscan University of Steubenville.
Justin Fatica - Since Hard as Nails was founded in 2002, Justin Fatica has impacted over two million people. He's been an itinerant speaker for 20 years, speaking in 4 countries and 44 states. Justin has been featured on numerous media outlets such as Good Morning America, ABC Nightline, TBN, EWTN, and was the subject of an HBO film called "Hard as Nails," as well as a 10 episode television series on EWTN called "You're Amazing with Justin Fatica."
Fr. Jonathan Meyer - will be the principle celebrant of Holy Mass.