Lanes will close approximately at 3:15 PM.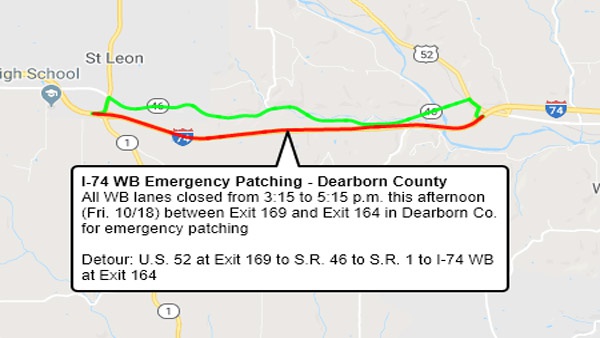 Photo: INDOT
Update Friday, October 18, 2019 4:57pm:
I-74 WB is now closed (delays due to getting materials on site). It should reopen by approximately 7 p.m.
Original Story Friday, October 18, 2019 3:07pm:
(Dearborn Co., Ind.) - All lanes of I-74 WB will close this afternoon (Oct. 18) for emergency patching work between Exit 169 (U.S. 52/Brookville/West Harrison) and Exit 164 (S.R. 1/St. Leon/Lawrenceburg) in Dearborn County. Westbound lanes will be closed from approximately 3:15 to 5:15 p.m.
Traffic will be diverted to U.S. 52 at Exit 169, where motorists may continue west via S.R. 46 to S.R. 1, and back to I-74 at Exit 164.