Pete Arnold passed away Thursday at the age of 65.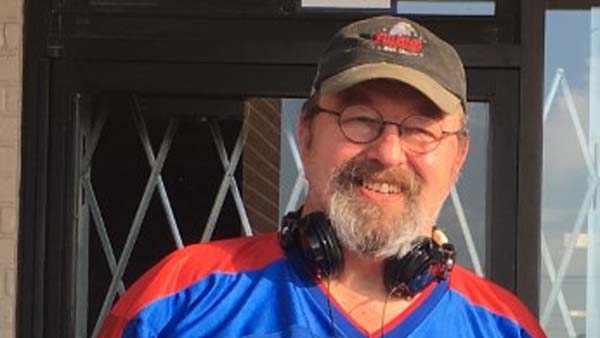 "Pigskin" Pete Arnold during a live broadcast from DeVille Pharmacy in Lawrenceburg.
(Lawrenceburg, Ind.) - A positive light in a negative world has been lost too soon.
"Pigskin" Pete Arnold passed away Thursday evening after a lengthy battle with cancer. He was 65.
Pete was a loving husband, father, stepfather, grandfather, brother, teacher, radio personality and friend.
Professionally, Pete was a longtime teacher at Lawrenceburg High School. He was a Tiger through and through and loved everything about the Lawrenceburg community. He also loved his hometown of Franklin, Ohio and Miami (Oh.) University, where he earned a Bachelor's of Science degree in Education in 1978. Pete would go onto receive a Master's degree in 1998 from Indiana Wesleyan University.
Pete was always heavily involved in sports at Lawrenceburg High School. He spent time coaching golf and baseball, in addition to announcing various sports.
His love for sports translated to radio, where Pete spent many years calling ballgames for Eagle Country 99.3.
"He gave me some of his score books from my playing days," said Double T. "When I started looking through them, I found that more times than not I played pretty well when Pete was on the call. I hope he got as much enjoyment out of calling those games as I've gotten remembering them. I can't thank him enough for passing those score books along to me."
Speaking of fun, Pete had fun every time he was on air at Eagle Country 99.3, including Saturday mornings with Jim Helms.
Fans of the Saturday morning Country Gold Show know that Pete always liked to start the show by saying, "Good morning, good morning, good morning." That would be followed by Pete and Jim saying in unison, "we're the Country Gold guys."
Jim Helms recounted his time with Pete and the fun they had on Saturday mornings.
"We always had people coming up to us to talk about our show," said Helms. "They'd say it sounds like when you guys are on the air you are really having a whole lot of fun. I'd say yes, we certainly are but you should hear us when we are not on the air because we are probably having more fun. So, if you ever heard us come on the mic and we were still laughing, that's why."
The fun didn't stop on Saturdays. Pete never missed a chance to work the on-air auctions at Eagle Country 99.3.
In his spare time, he liked to golf, fish, read and spend time with family and friends.
"For the longest time he was Mr. Arnold to me," said Double T. "I was a student-athlete and he was a teacher and a broadcaster. Over time, he became a neighbor, a co-worker and a friend and I could just call him Pete. I will miss working with him on Friday nights and during the auction, hearing his stories about Miami University, and talking sports. His enthusiasm and generosity will be missed."
Pete is survived by his loving wife, Dawn "Jane" Arnold; son, P.J. Arnold; daughter, Anne (Luke) Ogonek; step son, Tim Fassold; step daughter, April (Matthew) Pearson; brother, Paul (Judy) Arnold; and his five grandchildren, Sophia, Gwendolyn, Penelope, Ayla and Kellan.
Family and friends will be received on Monday, July 20 from 11:00 a.m. to 2:00 p.m. at St. Lawrence Catholic Church in Lawrenceburg. Funeral service will immediately follow.
Contributions may be made to Lauren's Fight For Cure.
Melissa Murphy, general manager Eagle Country 99.3
Pete and I had such an adorable working relationship, if you can say that anymore. I will. We are a family at Eagle Country and we act differently than other companies. I wouldn't change it for anything in the world.
Pete was always there when you needed him. He was honest to a fault and reached out to me day or night when he thought he thought he heard something go wrong or if he felt he needed permission for something. He never did anything without talking to me first, regardless of who requested him to do it. He wanted to make sure he did everything right. That's priceless. Throw in a heart as big as Dearborn County and you have the man we adored as "Pigskin Pete."
I've looked back through my texts from him as far back as 2015 and I have laughed until I've cried. The man I met ten years ago as Pigskin Pete was Mr. Arnold to most of my staff because he taught, coached or called games for three of them at some point in their lives so some of these texts will look funny to them. I'm sure they never imagined Mr. Arnold texting for permission for some of the cutest things. Here's an example: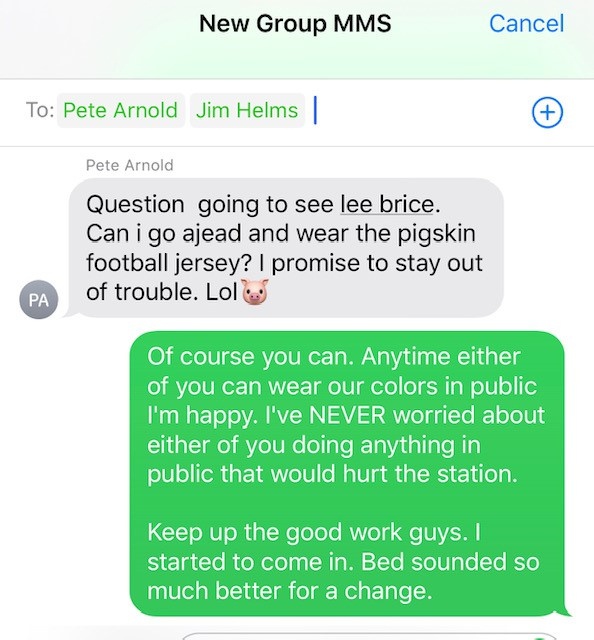 He was asking permission to wear a shirt that he had purchased with the Eagle logo on it. It showed me his respect and love for our Eagle family. It was priceless. It was also 7:00 am on a Saturday morning. He knew I wouldn't mind.
Pete was honest to a fault. The next two texts will prove that to you. In the first one he's asking me to change his time sheet by an hour. I didn't bother changing it. You can't put a price on that kind of honesty.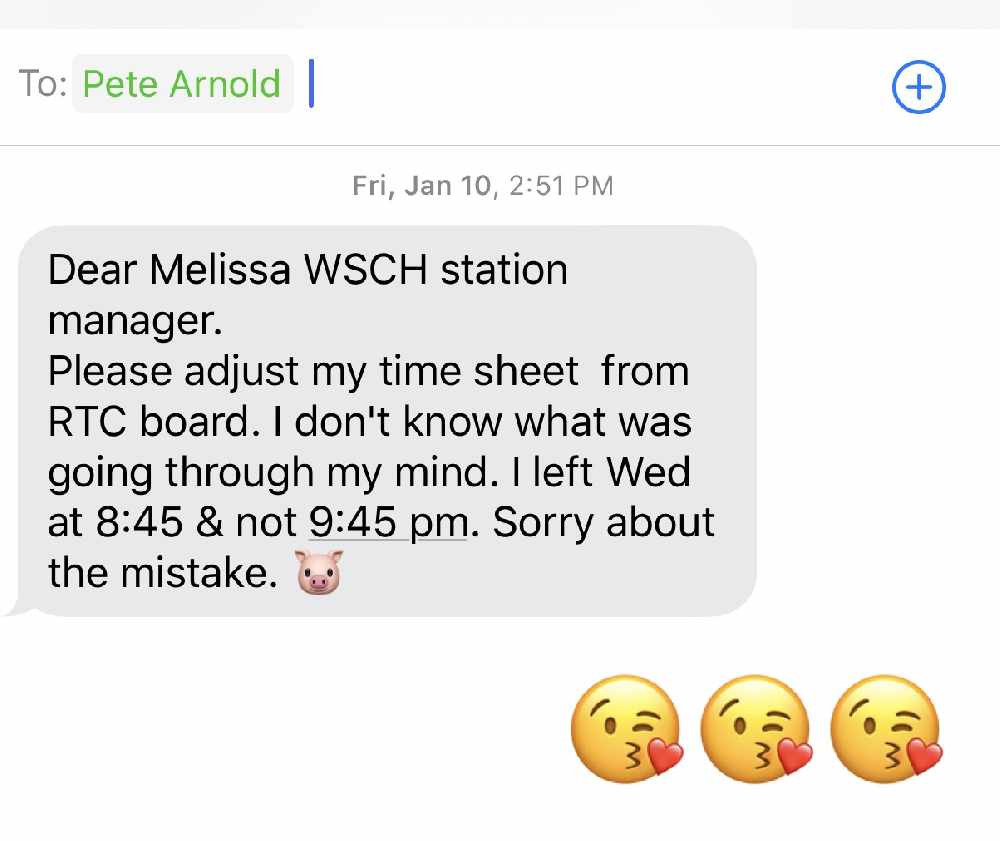 He sent this picture early one morning thanking me for tearing his check up for some auction items he purchased. Again, Pete was a man that was always there, always with an incredible attitude and even excited when the Eagle family needed him. He earned the extra little bonus and more.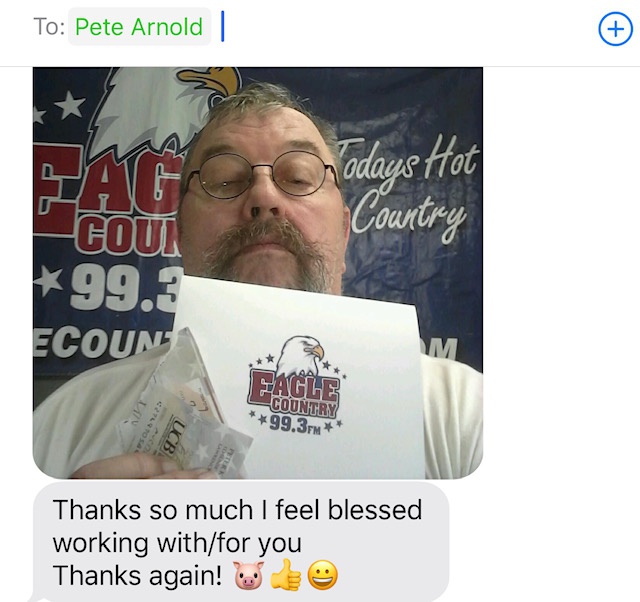 I have many more texts and pics of Pigskin Pete and his precious wife Jane at concerts. He loved taking her to concerts. He loved her. He was so proud that he married her on Eagle Country. He never missed dropping a note to Bubba for her birthday and would always ask if he could play a special song on their anniversary.
Pete especially loved pig emojis. He would sometimes just respond with one.
Over the last year the texts got tougher. He always kept me updated, told me he missed us and couldn't wait to get back. We were all so hopeful that he would beat this.
This isn't the last text I received but it's the last pig emoji he sent me and I wanted to share it.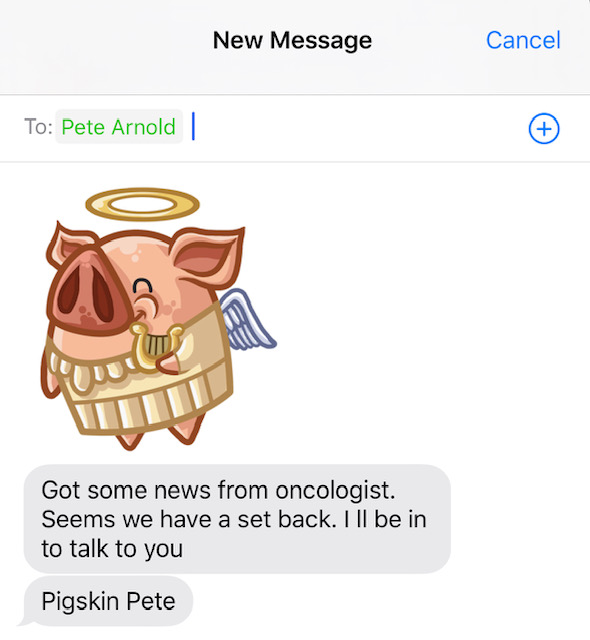 Our Eagle family has lost another member and God has welcomed an incredible angel into His Kingdom.
For some reason Rest In Peace doesn't seem right for Pete. He'll have peace. He will also be the hardest working angel with the happiest attitude in Heaven. I don't think he'd want it any other way.
Our hearts are broken for Pete's family and every life he touched. His legacy will live on in every student he taught or coached through the years. I'm proud to know that I have three of them on my staff.
Paul Arnold
I've known Pete my entire life. From our humble beginnings to our life together. He is and has been my mentor for all my years. He owned so many firsts in our lifes. First Eagle scout, first high school and college graduate. He set the bar high as my big brother...God knows I will miss him..Paul Arnold.
Shawn Kennedy
Pete and Mark Fletcher taught an innovative class at LHS my junior year called American Studies. It was a combination of history and literature, including plays and poetry. It was hands down the best class I ever took in high school. Mr. Arnold put a lot of effort into that class, as did Mr. Fletcher, and it showed. It helped prepare us for college and life.
Brad Thacker
I never thought I would have one of "those" teachers. Someone who taught you but also inspired you. Who made you laugh but also could be firm if you were cutting up too much. He was my English teacher for two years in high school as well as my instructor for Radio/Television class and taught me summer school the summer before my senior year.

This dude was a trip. In his Jerry Garcia or Pink Floyd ties he would teach you in this really cool mix of stand up comedy, pop culture & music references, and actual talent as a teacher. I enjoyed going to his class. I was pumped to find out he was my summer school teacher. Yes I once had to take summer school. And yes it kinda was like the movie.

"You are all lewd, crude, rude, and socially unacceptable." was a line he used often.

Another line he used if you smarted off in class was. "Really funny. You think you are funny. Go Bananas has their open mics on Wednesdays. Go see how funny you are." I always laughed and had no idea that 5 years later I would be at Go Bananas open mic with a journal full of jokes with his voice ringing in my head.

He could teach you Shakespeare but also talk about last nights Seinfeld episode.

Who could forget his work as Santa every year for the morning video announcements? Still some of the best improv comedy I have ever seen. Anytime I hear Jon Bon Jovi's Blaze of Glory I can't not think of Mr. Arnold dressed as Santa playing guitar on a broom he borrowed from the janitor.
He had my back when my guidance counselor at the time told me that wanting to get in radio broadcasting or comedy was not a good path and kinda made me feel dumb. "Welcome to the world of wanting to be creative. People who aren't don't understand ones who are."

I remember sending him a message after I started really getting paid work doing comedy. I told him how I went to Go Bananas open mic and kept going. He came out to see a show I was on once and was beaming that he could add another "celebrity" to his list of students he taught.

My best grades were in classes he taught. So our education system could take some clues from how he taught and respected his students.

Thank you Mr. Arnold. Rest In Peace.
Jaime B.
Mr Arnold was my English/Lit teacher, my junior year of high school in 1994/1995. I really enjoyed his class. Some of my favorite books were read in his class. I still use his phrase: "writing implement of destruction" to this day.
Kya Hawkins
I had Mr. Arnold my Junior year. He also had my dad who graduated in '85. He was a great teacher and loved his music. I remember when I&M was getting torn down he broadcasted it on the smart board and had my class watch it. He said it was a historical moment to watch. I watched his grandkids Ayla and Kellan. And we would always talk about how great of kids they are. He will be missed. I can still see him just driving around with his Grateful Dead tag on the front of his truck. To one of the greatest you will be missed.
Steve Mix
Always had WSCH on Saturday mornings too listen Mr. Arnold and Mr. Helms,, they was great together, did not know him personally, but I know I would like him.
Lynette Hartle
Rest in Peace Mr. Arnold. I always enjoyed listening to you on the radio.