Flags should be lowered from sunrise until sundown on Patriot Day.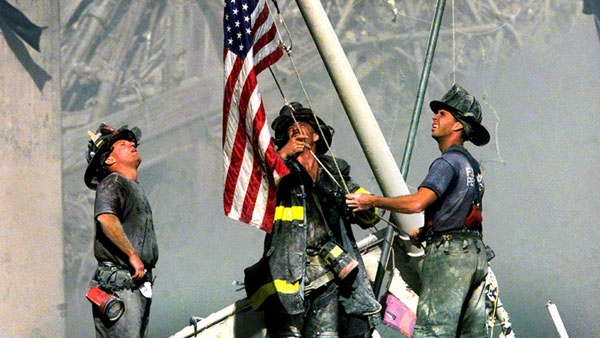 Firefighters raise a flag late in the afternoon on Tuesday, Sept. 11, 2001, in the wreckage of the World Trade Center towers in New York. Photo by The Record, Thomas E. Franklin.
(Florence, Ind.) - Flags in Indiana, Ohio, and Kentucky are to be at half-staff today in recognition of Patriot Day.
It is the 18th anniversary of the September 11, 2001 terror attacks. That morning, terrorists hijacked four U.S. jetliners and forced them to crash, killing nearly three-thousand people and jarring the entire nation. Two of the aircraft pierced each of the World Trade Center's twin towers in New York City, causing them to burn and collapse. Another jet slammed into the Pentagon building in the Washington, DC, area. The fourth, United Airlines Flight 93 en route from Newark to San Francisco carrying 38 passengers and seven crew, crashed in a field 80 miles southeast of Pittsburgh after passengers struggled with armed hijackers to regain control of the aircraft.
Governors in all three states have made the direction that flags be lowered from sunrise until sundown Wednesday.
The Church of Christ in Florence, Indiana is holding a 9/11 remembrance service Wednesday evening at 7:00 p.m. The Florence Church of Christ is located at 6912 Fourth Street in Florence, Indiana.
In northern Kentucky, the NKY Firefighters Association and Newport Fire Department are holding a ceremony at the World Peace Bell at 10:00 a.m. Wednesday.