The car show will once again take place in downtown Lawrenceburg.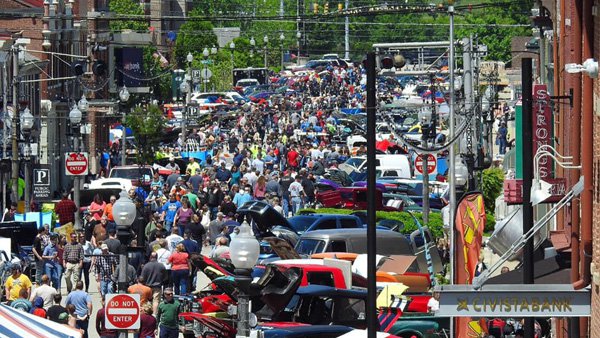 (Lawrenceburg, Ind.) - One of the biggest car shows in the tri-state is returning to downtown Lawrenceburg.
The 5th Annual Cruisin to A Cure for ALS is scheduled to take place on Sunday, May 2.
Since its inception, the event has raised nearly $92,000.
Organizer Logan Lawrence created the event in 2017 in memory of his grandfather, Carlos Lawrence, who passed away from ALS in 2009.
Statistically, 100 percent of ALS (also known as Lou Gehrig's Disease) is incurable. Cases range from people in their 20's to the elderly. Life expectancy ranges from a few months to several years.
"This year is a goal to make it the biggest and best one yet with a high goal of raising $30,000 for the year and a combined total well surpassing $100,000," said Lawrence. "Come enjoy one of the biggest community events in the tri-state area while supporting a great cause so that we can someday find a cure to attack ALS."
Pre-registration is available for $15.
Anything on wheels is welcomed whether it be a class car or truck, custom build, racecar, motorcycle and more.
The discounted fee of $15 is available until April 15. Registration will also be available the day of the show from 9:00 a.m. to noon for $20.
As always, the show will include many prizes, including 20 specialty trophies, top 25 modern (91 and newer), top 50 classic (90 and older), top 5 racecars, top 3 bike, $500 to best of show, $200 to the furthest traveled, and one person who enters early will be drawn to win $300.
The show also features a live auction, and kid friendly activities.
For more information, visit the Facebook page below.
.