Indiana State Police are still working to solve Thomas Biedenharn's murder.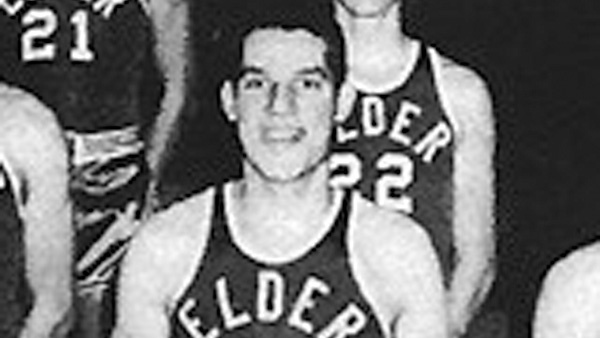 Thomas Biedenharn in a 1950s photo from his basketball playing days at Elder High School. Elder High School photo.
(Hidden Valley, Ind.) - The family of a Hidden Valley murder victim is offering a reward for information leading to an arrest.
Thomas Biedenharn was found dead in his home on Highridge Court in Hidden Valley on Memorial Day, May 28. Indiana State Police are leading the investigation, but two and a half weeks later there have been no arrests in the 73-year-old's murder.
On Wednesday, state police said Biedenharn's family is offering a $50,000 reward to anybody who can provide information that leads to an arrest and conviction.
The only clue detectives have shared with the public is that an electric or bright blue colored four door pickup truck was seen in Biedenharn's neighborhood around the time of the murder.
"Indiana State Police Detectives are continuing to pursue leads in this investigation and the case remains very active," said ISP spokesman Sgt. Stephen Wheeles. "Information gathered during the investigation has led investigators to believe that more than one person was present with Biedenharn at the residence when the crime occurred."
If you can help, call the Indiana State Police Tip Line at 877-477-1847.
Biedenharn was an Elder High School and University of Cincinnati basketball star in the 1960s.
RELATED STORIES:
Investigators Seek "Electric Or Bright Blue" Truck In Hidden Valley Murder
HVL Murder Victim Was Former Cincinnati Basketball Standout