Thomas Biedenharn was found murdered in his Hidden Valley home on Memorial Day.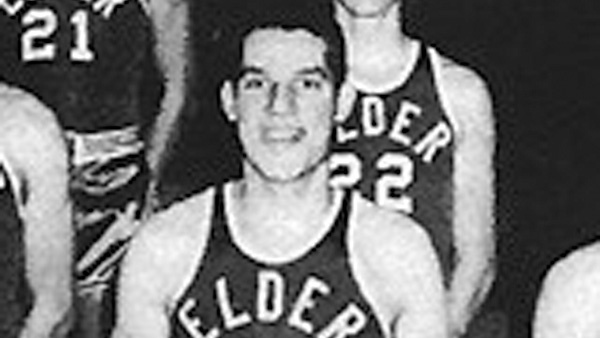 Thomas Biedenharn, shown here in a 1962 Elder High School basketball team photo, was murdered in his Hidden Valley home. His body was found on Monday, May 28. Photo via Elder High School.
(Hidden Valley, Ind.) - Indiana State Police investigators are investigating the murder of a former Elder High School and University of Cincinnati basketball star.
Thomas Biedenharn, 73, was found dead in his home on Highridge Court on Monday. On Thursday, state police announced that his death has been ruled a homicide.
So far, police have not made any arrests for the death. They are asking anybody with information to come forward.
It's a crime that may have never happened before in the quiet, upper middle class Hidden Valley community. Neighbors wonder if the perpetrator is somebody who knew Biedenharn, or if he fell victim to a random act of violence.
At 6'7", Biedenharn starred for Elder High School's boys basketball team in 1961 and 1962. To this day, he still holds the single season scoring average record (24.8 ppg) at Elder for his '62 senior season, when the Panthers went 20-0 in the regular season.
"We played at Aurora (Indiana) and I still remember going in there as a team and those people just being in awe of our size," Biedenharn told the Cincinnati Enquirer for a 2015 article. "When we got on the floor we proved to them that it wasn't just our size — we could play."
Following high school, Biedenharn went on to play at the University of Cincinnati.
Fritz Meyer, a former teammate of his at both Elder and UC, was saddened to hear of his old teammate's death.
Anyone with information about Biedenharn's murder is asked to contact Indiana State Police at the Versailles Post, (812) 689-5000.
RELATED STORIES: