Both young men have ties to Eagle Country.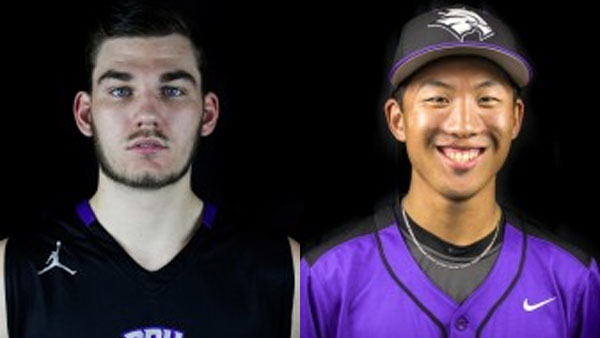 Blake Walsman and Mark Walters were among the big winners at CCU's second annual athletic banquet on Sunday night. Photos courtesy CCU Athletics.
(Cincinnati, Oh.) – Two Cincinnati Christian University student-athletes with local ties were big winners at the university's second annual athletic banquet.
Batesville High School graduate Blake Walsman and Walton-Verona High School graduate Mark Walters were among the big winners on Sunday night.
For Walsman, he was named CCU Male Athlete of the Year.
Walsman starred for the Eagles on the basketball floor this past season averaging 22.0 points per game and was the country's top rebounder with 16 boards per game.
Those stats earned Walsman NCCAA National Player of the Year Runner-Up and Honorable Mention NAIA All-American.
Walsman finishes his storied career as CCU's all-time leading scorer and rebounder.
As for Walters, the former Walton-Verona baseball star was named CCU's Male Servant Leadership Award winner.
The Servant Leadership Award is presented to a male and female student-athlete who has taken it upon themselves to enrich the lives of individuals, builds a better team atmosphere, serves others on the athletic field or court and campus, and creates a more just and caring world.
Walters has played a huge role on campus as a team chaplain, SAAC member, RA and great teammate at CCU.