Brent Turner was the conference's best player in both baseball and golf April 3 through May 5.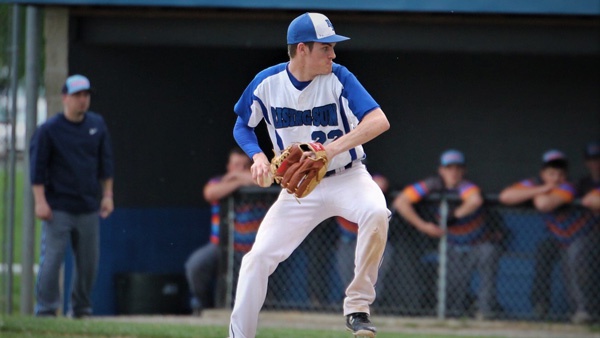 Rising Sun's Brent Turner has been named the Ohio River Valley Conference Player of the Week in both baseball and boys golf. Photo by Mason Uhlmansiek, RisingSunAthletics.com.
(Rising Sun, Ind.) – No doubt about it. Rising Sun High School's Brent Turner is a multi-talented athlete.
The Ohio River Valley Conference's superlatives for April 30 through May 5 were announced Tuesday. Turner, a senior, was named the ORVC Co-Baseball Player of the Week and the Boys Golfer of the Week.
On the links, Turner carded a 36 in a nine-hole round at Rising Star Casino.
In baseball, Turner and South Ripley's Jackson Cornett shared co-player of the week honors. Turner amassed 15 strikeouts in two pitching wins during the week, in addition to hitting 6-14 with 6 RBI, 7 runs, three doubles, and three stolen bases. Cornett, a leader of the team atop the conference standings, tallied nine hits with nine RBI, six runs, 12 stolen bases, three doubles, and two triples in six games.
Softball Co-Player of the Week awards were given to Rising Sun's Sydney Pitts and Jac-Cen-Del's Morgen Carroll. Pitts racked up 36 strikeouts in going 3-1 on the mound for 24 innings during the week. She also had five hits, three RBI, three runs, and two doubles to help Rising Sun stay in first place in the conference race. Carroll went 2-0 as a pitcher, collecting 26 Ks in 12 innings while allowing only one earned run. She also had three hits, three RBI, and a double.
Four players earned ORVC Performers of the Week awards in track and field. Switzerland County's Zach Howlett and Milan's Peyton Cavins shared the boys award. Howlett excelled in the discus and shotput. Cavins ran a 200 meter dash in :23.68.
For the girls, South Ripley's Megan Cole set new Ripley County Track & Field Championship meet records in both the 1600 and 3200 meter runs. She shared the player of the week honor with Southwestern's Taylor Cole, who was great in the 100, 200, and 400 meter dashes, as well as the long jump.
ORVC Boys Baseball Top Performers
Bailey Elliott (SW) 5-11, 5 RBI, 2B, HR last week
Talon Harmon (SW) 6-12, 4 RBI, 2 2B, 3B last week
Brent Turner (RS) 6-14, 7 runs, 6 RBI, 3 2B, 3 SB / 2 wins with 15 K's last week
Stephen Jimenez (RS) 5-13, 8 runs, 6 RBI, 2B, 3B last week
Landon Cole (RS) 5-10, 6 runs, 7 RBI, 2B last week
Kenyon Bledsoe (SC) 7 hits, 6 runs, 3 RBI, 2 3B / 9.3 IP, 6 hits, 3 ER in win
Kyle Whitham (SC) 7 hits, 6 runs, 5 RBI, 2B, SB / 11 IP, 6 ER, 9 K's in win
Patrick Stow (SC) 8 hits, 6 RBI, 5 runs, 3 2B in 4 games
Jackson Cornett (SR) 9 hits, 9 RBI, 6 runs, 12 SB, 3 2B, 2 3B in 6 games
Avery Halcomb (SR) 7 hits, 7 runs, 5 SB, 3 RBI, 2 2B / 7.2 IP, 6 hits, 0 ER, 7 K's in win
Cody Samples (SR) 6 hits, 6 runs, 6 RBI, 4 SB, 2 2B in 6 games
Nate Pawlak (SM) 5-9, 5 RBI / GC, 4 runs, 5 hits, 13 K's vs. Col. Christian
Conner Toops (JCD) 4 RBI, 3 hits, run, 2B in 2 games
Michael Flint (JCD) 3 RBI, 2 hits, 2 runs, 2B, SB / 4 IP, 0 ER, 8 K's in win vs. Shawe
Dustin Herbert (JCD) 4 runs, 3 hits, 3 RBI, 2 2B in 2 games
ORVC Softball Top Performers
Elexah Roepke (SR) 4 hits, 3 runs, 3 RBI, 2B, HR in 2 games
Abby Ralston (SW) 3 hits, 2 runs, 3B, SB in 2 games
Brittany Barnett (SW) 2 hits, 2 RBI in 2 games
Courtney Bruns (M) 6 hits, 6 runs, 4 RBI, 2B in 2 games
Abby Ferreira (M) 5 hits, 5 RBI, 4 runs, 2B in 2 games
Emily Adams (JCD) 4 hits, 3 RBI, 2 runs, 2B, SB in 2 games
Emma Tunny (JCD) 3 hits, 3 runs, RBI, SB in 2 games
Morgen Carroll (JCD) 3 hits, 3 RBI, 2B / 12 IP, 3 runs, 1 ER, 26 K's going 2-0 last week
Abby Wallace (RS) 7 hits, 8 RBI, 3 2B, 2 runs, SB in 4 games
Lindsay Montgomery (RS) 6 runs, 5 RBI, 4 hits, 2 SB, HR in 4 games
Sydney Pitts (RS) 5 hits, 3 runs, 3 RBI, 2 2B / 24 IP, 4 ER, 36 K's going 3-1 last week
ORVC Boys Golf Top Performers
Hunter Mefford (SW) 40 @ Butler Falls, 42 @ Belterra
Austin Kramer (SW) 41 @ Butler Falls, 43 @ Belterra
Trenton Hadley (SW) 41 @ Butler Falls
Chris Hawk (M) 46 @ Greensburg, 43 @ Grand Oak, 49 @ Belterra
Parker Lewis (M) 52 @ Greensburg, 43 @ Grand Oak, 44 @ Belterra
Joe Hawk (M) 46 @ Greensburg, 47 @ Grand Oak, 50 @ Belterra
Brent Turner (RS) 36 @ Rising Star
Sam Markland (RS) 40 @ Rising Star
Cory Welch (SR) 46 @ Butler Falls, 49 @ Sunrise
Garrett Demaree (SC) 42 @ Butler Falls, 47 @ Belterra
Tyler Konkle (SC) 47 @ Butler Falls, 44 @ Belterra
Boys Track Girls Track
Zach Howlett (SC) 122'0" Discus Shaylee Volz (JCD) 91'10"
Zach Howlett (SC) 45'2" Shot Put Riley Chipman (RS) 33'½"
Adrian Peetz (JCD) 18'11" Long Jump Taylor Cole (SW) 14'6"
Boor (JCD) & Elliott (SR) 6'1" High Jump Lauren Lundergan (SM) 5'0"
Daniel Daugherty (RS) :16.03 High Hurdles Ally Furnish (SC) :17.63
Jake Scott (RS) :44.44 Low Hurdles Alijah Craig (M) :49.37
Mitchell Cline (SW) :11.43 100 Taylor Cole (SW) :12.84
Peyton Cavins (M) :23.68 200 Taylor Cole (SW) :27.56
Mitchell Cline (SW) :51.84 400 Taylor Cole (SW) 1:02
Javier Beinardini (JCD) 2:12 800 Cole (SR) & Brinkman (M) 2:35
Bradley Winston (SW) 4:52 1600 Megan Cole (SR) 5:31*
Trevor Levi (RS) 10:48 3200 Megan Cole (SR) 11:43*
Milan :46.90 400 relay Milan :54.70
Milan 3:45 1600 relay Milan 4:45
Southwestern 9:35 3200 relay South Ripley 11:32