J.R. Todd became just the third driver in Royal Purple Raceway track history to own wins in both NHRA Top Fuel and Funny Car.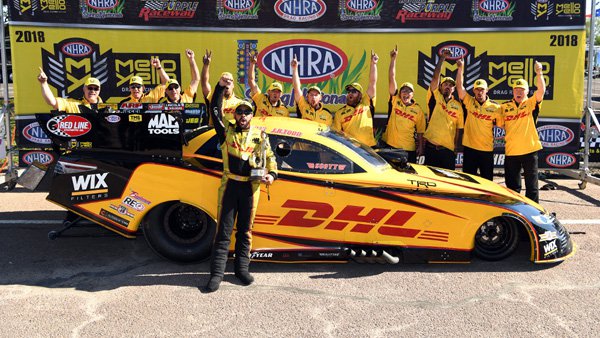 J.R. Todd with his DHL Toyota Camry Funny Car and crew after winning the NHRA Spring Nationals in Baytown, Texas on Sunday, April 23. Photo courtesy Kalitta Motorsports.
(Lawrenceburg, Ind.) – The 2018 NHRA season is off to a fast start – literally – for Lawrenceburg native J.R. Todd.
Todd, 36, became the winner of the NHRA Funny Car circuit for the second consecutive week when he took the title at the 31st annual NHRA Spring Nationals at Royal Purple Raceway in Baytown, Texas on Sunday. It is the first time Todd has won back-to-back NHRA events.
In the final race, Todd's DHL Toyota Camry peaked at 313.29 MPH to reach the finish line in 3.955 seconds, ahead of defending Funny Car champion Robert Hight.
"It's nice to be moving up in the points the way we are. It seems like every year that I've been out here competing for the Countdown that I'm always around the cut line," said Todd. "It would be nice if we can keep this going and stay up there in the top five."
Five events into the NHRA's 2018 schedule, Todd has won two of them. He is third in the Funny Car standings with 347 points, behind second-place Matt Hagan's 363 and Jack Beckman's 415.
Todd has won four times in the last 15 races dating back to the 2017 season.
"I'm just happy to get a win no matter what the number. We show up every week trying to win the race. We'll take them anyway we can get them. Today was really just a matter of survival. I was just lucky enough to turn on four win lights again," he said.
Todd now has 13 NHRA wins in his career. Last year, he jumped from Top Fuel to Funny Car.