Connor Kinnett, Levi Tidwell and Kyle Farfsing are being recognized for their outstanding 2018 seasons on the gridiron.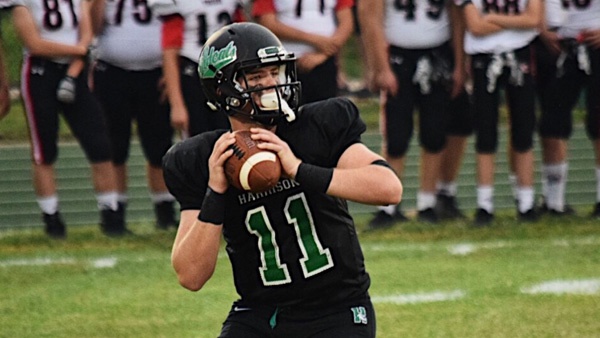 Harrison High School quarterback Connor Kinnett has been named an honorable mention on the OPSWA's Division II All-Ohio Team. Photo provided.
(Harrison, Oh.) – Three Harrison High School Wildcats are being named among the state's best football players.
The Ohio Prep Sportswriters Association announced its Division II All-Ohio teams on Tuesday.
Harrison's Connor Kinnett, Levi Tidwell and Kyle Farfsing did not appear on the Division II first, second or third team in DII. They did, however, appear under the D-II All-Ohio special mentions.
As a junior this past season, Kinnett quarterbacked the Wildcats to a 7-4 record and a D-II playoff appearance. He led the Southwest Ohio Conference with 2,436 passing yards and 23 passing touchdowns. He also ran for 290 yards and six more TDs.
Tidwell was Kinnett's favorite passing target. The junior wideout tallied 63 receptions for a conference-leading 865 yards and 11 touchdowns
Farfsing was one of the state's best place kickers. He was successful on 42 of 43 extra point tries. He kicked five field goals in seven attempts, with his longest from 36 yards.
Complete OPSWA All-Ohio Football Teams in all divisions can be found at https://www.ohsaa.org/news-media.
Congrats Connor! #WTD. #WeAreWildcats. @HarrisonFootba1 @swocsports @tsfootball @HarrisonWildcat @rmaloneyeditor @mlaughman @MikeDyer @SouthwestLocal @hjswildcat pic.twitter.com/y8KrnnwYFh

— Harrison Wildcats AD (@wildcatsofhhs) November 28, 2018
Congrats Kyle! #WTD. #WeAreWildcats. @HarrisonFootba1 @swocsports @tsfootball @HarrisonWildcat @rmaloneyeditor @mlaughman @MikeDyer @SouthwestLocal @hjswildcat pic.twitter.com/UKoBnvKDUG

— Harrison Wildcats AD (@wildcatsofhhs) November 28, 2018
Congrats Max! #WTD. #WeAreWildcats. @HarrisonFootba1 @swocsports @tsfootball @HarrisonWildcat @rmaloneyeditor @mlaughman @MikeDyer @SouthwestLocal @hjswildcat pic.twitter.com/H90Rg9gVEf

— Harrison Wildcats AD (@wildcatsofhhs) November 28, 2018