Congratulations Ean Loichinger and Emilee Wedding on becoming the 2018 Southeastern Indiana Racing Circuit champions.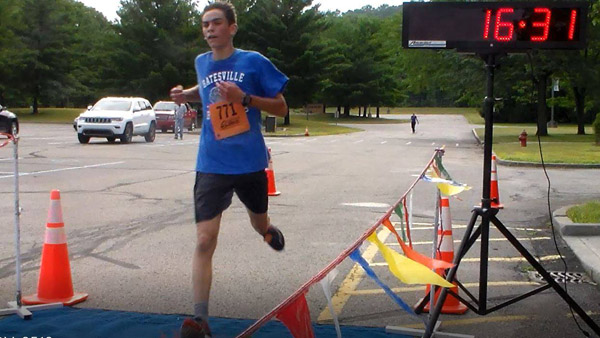 Ean Loichinger, a Batesville High School student, was the male champion of the 2018 Southeastern Indiana Racing Circuit. Photo courtesy Stuart Road Racing.
(Batesville, Ind.) – The Southeastern Indiana Racing Circuit's underwent a youth movement in 2018.
Two teenagers are the winners of the SIRC-it. The series of five 5K races came to a conclusion on Saturday at the Bulldog Chase 5K in Batesville.
The overall and male winner of the SIRC-it was 14-year-old Ean Loichinger, a freshman student at Batesville High School. His total time through five races was 1:22:51. He was second in the Bulldog Chase with a time of 16:24, only former cross country state champion Curtis Eckstein topping him at 14:58.
Loichinger had three first place finishes in the SIRC at the Trojan Trot in St. Leon, Indian Trails 5K in Milan, and Knight Flight 5K in Aurora. In the two races he wasn't first, he was second.
The female winner of the SIRC-it was 16-year-old Emilee Wedding with a total time of 1:49:9. The East Central High School junior completed the series' final race in 20:09.
Seventeen-year-old Megan Cole, a senior at South Ripley High School, won the Bulldog Chase female division with a time of 18:26. Cole ran in four of the five SIRC-it races, becoming the first female to cross the finish line of each of those races she entered. Competitors, however, have to run in all five circuit races in order to qualify for the championship.
Ean's sister, 16-year-old Elizabeth, was an early leader in the 2018 SIRC, but she missed the third race in the series.
In all, 28 men and women competed in all five SIRC-it races this year. Find full SIRC results at Stuart Road Racing's website.
2018 SIRC-it top three standings:
Male
1. Ean Loichinger, 14, Batesville, 1:22:51
2. Dwayne Steele, 40, Seymour, 1:32:03
3. Kyle Seibert, 16, Connersville, 1:36:31
Female
1. Emilee Wedding, 16, Lawrenceburg, 1:49:09
2. Lauren Greiwe, 17, West Harrison, 1:53:40
3. Lily Greiwe, 17, West Harrison, 1:54:04