Don McMillan contributed much to football at the high school, college, and pro levels.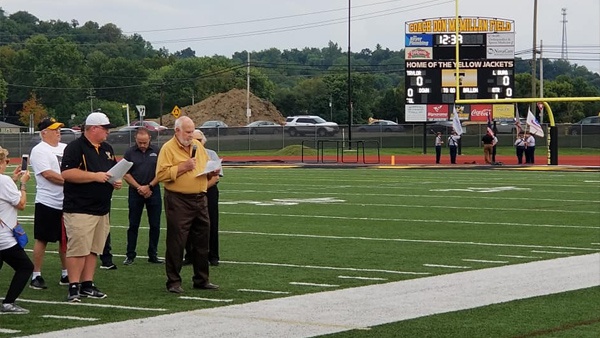 A ceremony naming Taylor High School's Coach Don McMillan Field was held on August 30, 2019. Photo courtesy Three Rivers School District.
(Cleves, Oh.) – The new turf athletic field at Three Rivers Educational Campus has been named for longtime coach, Cincinnati Bengals statistician, and former University of Cincinnati quarterback Don McMillan.
The field's new name, Coach Don McMillan Field, was formally celebrated at the Taylor High School football team's home opener on August 30. Family, friends, and former players of the late coach gathered to be a part of it.
"Coach" McMillan died in 2011 at age 89.
A U.S. Navy veteran of World War II, McMillan was a coach and athletic direct at Taylor High School for more than three decades. He is a member of the school's athletic hall of fame.
He joined the military after attending Holmes High School. Upon his return from the second world war, McMillan played quarterback for the UC Bearcats from 1946 to 1949.
Retiring as Taylor High School's coach in 1984, McMillan went to work as the statistician for the Bengals. He held that job for 32 seasons, but continued to stay involved in Yellowjackets sports.