Perdue is one of ten Special Olympics athletes from around the world selected by ESPN and Special Olympics to demonstrate their snowboarding skills at the Unified event during the X Games.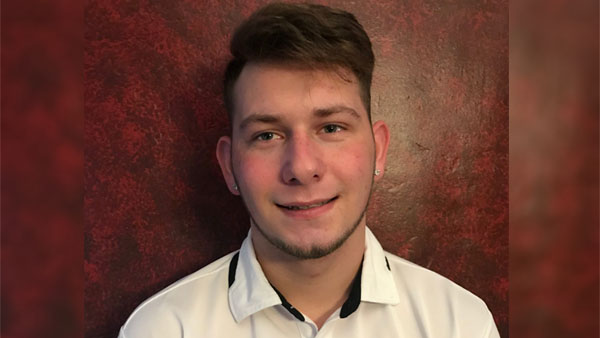 Chris Perdue. Photo provided.
(Aurora, Ind.) - ESPN has announced that Special Olympics Indiana - Ripley Ohio Dearborn Counties' athlete, Chris Perdue of Osgood, will be returning, for the third consecutive year, to the X Games Aspen 2019 for the annual Special Olympics Unified Snowboarding Races. The X Games will take place from January 22-26 on Buttermilk Mountain in Aspen, Colorado. Coverage of the X Games can be viewed on ESPN and ABC.
Perdue is one of ten Special Olympics athletes from around the world selected by ESPN and Special Olympics to demonstrate their snowboarding skills at the Unified event during the X Games. ESPN is the global presenting sponsor and official media sponsor of Special Olympics Unified Sports.
Unified Sports is an inclusive sports program that combines an approximately equal number of Special Olympics athletes (individuals with intellectual disabilities) and partners (individuals without intellectual disabilities) on teams for training and competition. Three models exist within Unified Sports: competitive Unified Sports, Unified Sports Player Development and Unified Sports Recreation. All three models provide different types of experiences in team sports such as basketball, football, and volleyball and in other sports such as bocce, golf and tennis. Unified Sports is now offered throughout the world and has been a Special Olympics internationally sanctioned program since 1989.
Perdue will be partnered with Mike Schultz, an American Snowmobiler. Schultz is a three-sport X Games athlete with the most adaptive gold medals in X Game history -- he has eight between SnoCross Adaptive and Moto X Racing Adaptive. He's won SnoCross Adaptive every time he's competed; a 2016 win brought the total to five.
Schultz is an above-the-knee amputee who created his own knee and prosthetic leg to accommodate his activities. The self-trained engineer now has a successful business, Biodapt, serving adaptive athletes and veterans. He builds prosthetics for several of his competitors.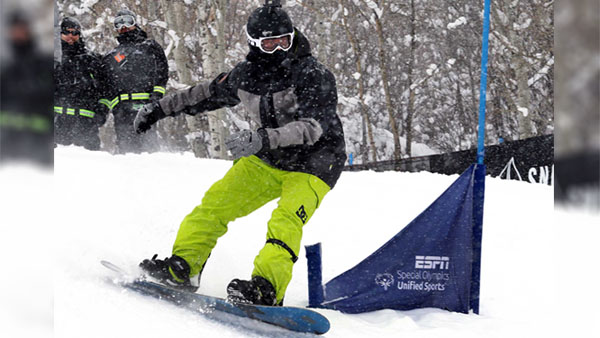 Photo provided.
For the fifth consecutive year, this event will provide an opportunity for X Games Aspen pro athletes and fans to see the power of Special Olympics in action. The Unified Snowboarding Races will provide professional winter sports athletes an opportunity to partner with Special Olympics athletes on X Games slopes. Through this event, Special Olympics will further cultivate another annual tradition that celebrates individuals with and without intellectual disabilities partnering in sports.
While in Aspen, Perdue will also compete in the Sixth Annual Hannah Teter Special Olympics Unified Dual Slalom Race on the Silver Dip NASTAR Course on Aspen Mountain. Twenty-five snowboarders including Hannah Teter, representatives of Perfect Sense, the event sponsor, and the ten Special Olympics athletes, and Olympic and action sports athletes will participate.
In 2017, Perdue captured a gold medal in his division of the Advanced Giant Slalom at the Special Olympics World Winter Games held in Austria. Perdue competed against athletes from all around the world. In the Advanced Giant Slalom event he challenged a total of eight athletes from New Zealand, Switzerland, Japan, Austria, and Korea. Prior to the World Games, Perdue competed at the X Games with Unified Partner, Danny Davis taking seventh place. Last year, partnered with Schultz the team took fifth place.
Perdue, 20 years old, trains at Perfect North Slopes in Lawrenceburg. He's been involved in Special Olympics for the past eight years, after being introduced to the organization by his Special Ed teacher from South Ripley High School. During the recent Winter Games of Special Olympics Indiana held at Perfects, Perfect North Slopes learned of Perdue's return to the X Games and provided him with a new pair of snowboarding boots for his trip.